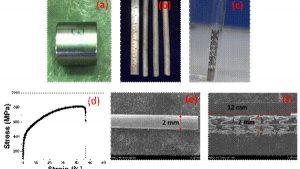 International Advanced Research Centre for Powder Metallurgy and New Materials (ARCI) and Sree Chitra Tirunal Institute of Medical Sciences and Technology (SCTIMST), Thiruvananthapuram have jointly developed new generation Iron-Manganese based alloys for biodegradable metal implants for use in humans.
Click Here To Get Test Series For SBI PO 2020
The newly developed alloys are suitable for biodegradable stent and orthopaedic implant applications. Biodegradable materials like Fe, Magnesium(Mg), Zinc(Zn), and polymer participate in the healing process & gradually degrade by maintaining mechanical integrity.
Invivo and in-vitro studies are being planned by the team at Sri Chitra Tirunal Institute of Medical Sciences. The ARCI team has employed conventional melting and powder metallurgy techniques in the manufacturing of the new Fe-Mn based biodegradable alloys and stents with diameter- 2 millimetres (mm), Length- 12 mm and Wall thickness- 175 micrometres (µm).
Important takeaways for all competitive exams:
ARCI Headquarters: Hyderabad, Telangana.
ARCI Chairperson: Dr Anil Kakodkar.
ARCI Director: Dr G. Padmanabham.
SCTIMST Headquarters: Thiruvananthapuram, Kerala.
SCTIMST President: Dr Vijay Kumar Saraswat.
SCTIMST Director: Dr Asha Kishore.