The Arunachal Pradesh State Cabinet gave the green light to a host of transformative measures aimed at safeguarding the state's biodiversity and promoting the preservation of indigenous languages. Among the notable decisions were the establishment of a Special Tiger Protection Force (STPF) for three tiger reserves, the allocation of honorariums to third language teachers, the amendment of the state's industrial and investment policy, and the formulation of the Arunachal Pradesh Home Guard Rules for 2023.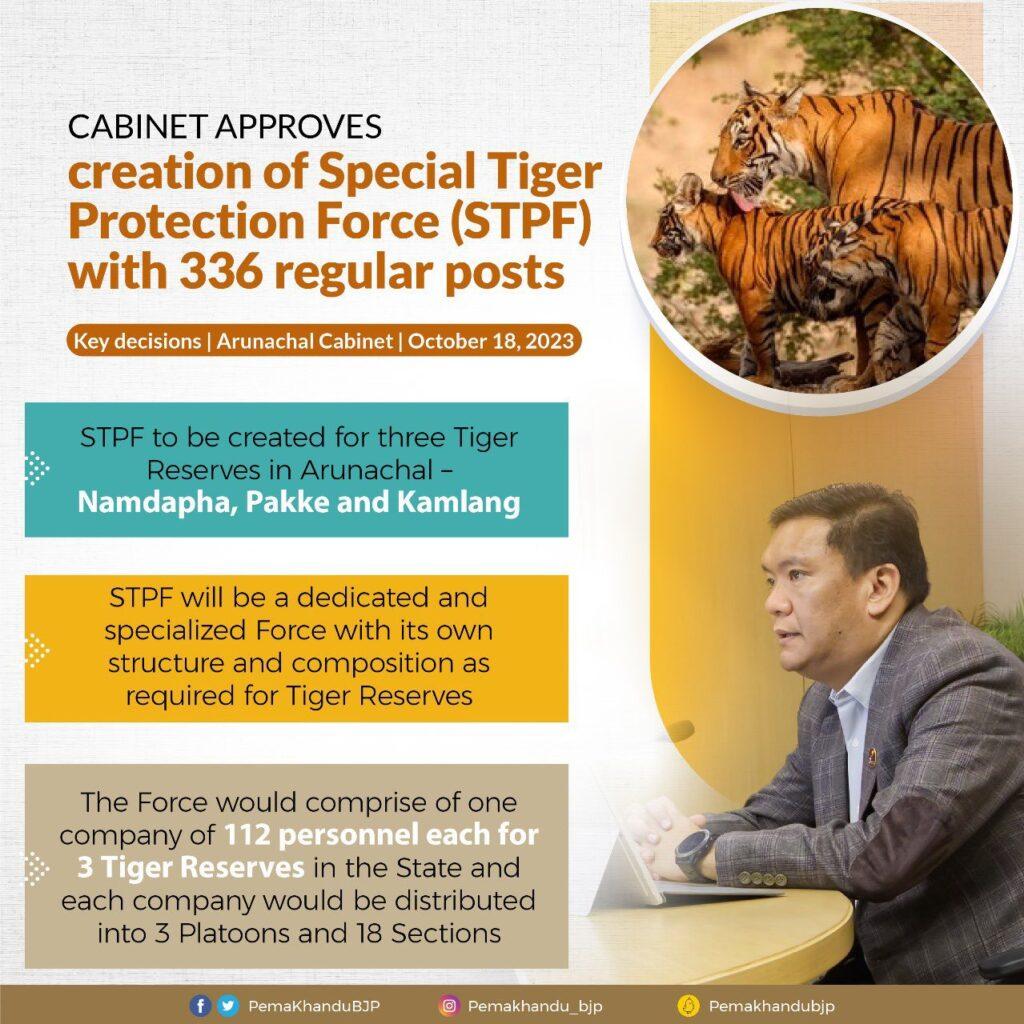 Special Tiger Protection Force (STPF) for Arunachal Pradesh
The state cabinet approved the formation of a Special Tiger Protection Force (STPF). This specialized force will be responsible for safeguarding the three tiger reserves in the state, namely Namdapha, Pakke, and Kamlang. The decision is a significant step towards the preservation of tigers and their habitats in the region.
Creation of 336 Dedicated Posts in the STPF to Safeguard Tigers and Their Habitats
The establishment of the STPF involves the creation of 336 regular posts, which will be dedicated to ensuring the protection of these magnificent creatures and their environments. This initiative aims to reduce poaching and illegal activities in the tiger reserves, ultimately securing the future of these critically endangered big cats.
Recognition and Support for Third Language Teachers
Arunachal Pradesh is known for its linguistic diversity, with numerous tribes across the state speaking their own distinct languages. In a bid to preserve and promote these indigenous languages, the state cabinet approved an important measure. The government will now provide a lump-sum monthly honorarium to all Third Language Teachers who have developed scripts for their respective tribes.
Preserving Indigenous Languages
Currently, there are 1,043 language teachers engaged in the state, representing a wide array of indigenous languages. This decision is not only a nod to their significant contributions but also an incentive for the continued development and teaching of third language subjects, starting from the elementary level. It's a positive step towards the preservation of the rich linguistic heritage of Arunachal Pradesh.
Amendment of Arunachal Pradesh State Industrial and Investment Policy 2020
Recognizing the importance of fostering economic growth and development, the Arunachal Pradesh State Cabinet approved the amendment of the Arunachal Pradesh State Industrial and Investment Policy for 2020. This policy plays a crucial role in attracting investments, creating jobs, and promoting industrialization in the state. The amendment signifies the government's commitment to adapt and evolve its economic strategies to meet the changing needs of the region.
Framing of Arunachal Pradesh Home Guard Rules 2023
The formation of the Arunachal Pradesh Home Guard Rules for 2023 was another key decision by the state cabinet. The Home Guard plays a pivotal role in maintaining law and order and providing assistance during emergencies. These new rules will help streamline the functioning of the Home Guard in the state and enhance its effectiveness in safeguarding the well-being of Arunachal Pradesh's citizens.