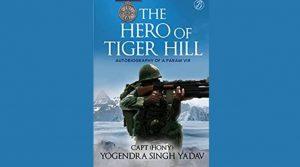 The autobiography "The Hero of Tiger Hill: Autobiography of a Param Vir", is about the inspiring story of Subedar Major (Honorary Captain) Yogendra Singh Yadav (Retd), the Youngest Param Vir Chakra (PVC) awardee, at the age of 19 for his actions in the 1999 Kargil conflict. This autobiography is published by Srishti Publishers & Distributors.
Bank Prime Test Series with 1200+Tests for IBPS RRB PO
About the book:
Subedar Major Yadav's idea in writing about him began when he was invited to the top colleges in India, he noticed that his simple but honest answers made a lot of impact on young students. His motive in writing the autobiography is to motivate youngsters of India and infuse a sense of patriotism. The book was mainly focused on the night of July 3, 1999, 19 years old Yadav was given a crucial task with the Ghatak Platoon of 18 Grenadiers Regiment in order to capture the Tiger Hill.
Find More Books and Authors Here