Axis Bank has launched 'Sarathi,' a revolutionary digital onboarding platform aimed at simplifying the process for merchants to adopt Electronic Data Capture (EDC) or Point of Sale (PoS) terminals. By eliminating the need for lengthy paperwork and long waiting periods, Sarathi offers a streamlined and hassle-free experience to merchants, enabling them to begin accepting digital payments quickly and efficiently.
Streamlined Onboarding Process
With Sarathi, merchants can complete the onboarding process in just four simple steps, ensuring a seamless experience.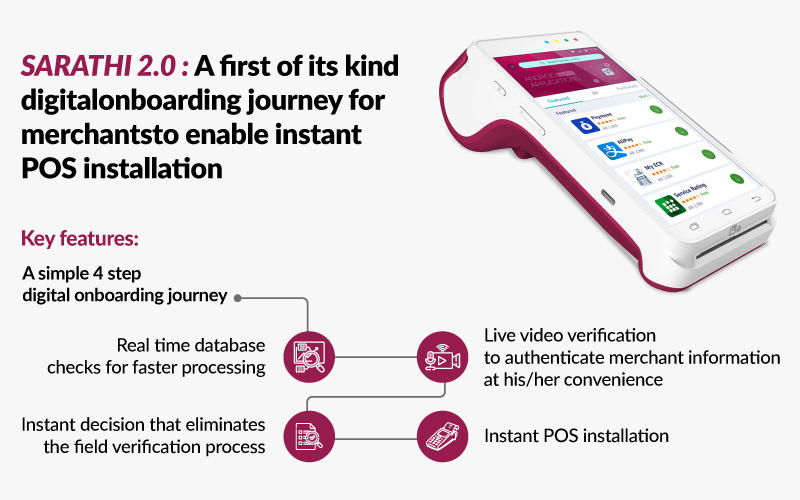 Buy Prime Test Series for all Banking, SSC, Insurance & other exams
These steps include:
Real-time Database Checks: Sarathi leverages real-time database checks to expedite the application processing, reducing the time it takes for merchants to get approved.
Live Video Verification: Merchants can authenticate their information through a live video verification process at their convenience, eliminating the need for field verification and further accelerating the decision-making process.
Quick Decision-Making: By removing the field verification procedure, Sarathi enables quick decision-making, allowing merchants to start transacting without unnecessary delays.
Instant PoS Installation: Upon successful completion of the onboarding process, PoS terminal installation is carried out immediately, ensuring that merchants can begin accepting digital payments right away.
Key Features and Benefits
Sarathi offers several key features and benefits that enhance the overall onboarding experience for merchants, including:
Immediate Status Updates: Merchants receive real-time status updates on their application, eliminating the need for follow-up visits and reducing uncertainty.
Same-Day Transaction Capability: Upon processing their application, merchants can start transacting on the same day, ensuring a swift and efficient integration into the digital payments ecosystem.
Paperless Onboarding: The paperless onboarding procedure eliminates the need for merchants to fill out lengthy documents repeatedly or wait for extended periods for their PoS terminals to be installed.
Speedy Installation: Sarathi enables speedy installation, with PoS terminals typically being set up within 45 minutes of application processing, ensuring minimal disruption to merchants' operations.
Enhancing the Merchant Experience
Sanjeev Moghe, President & Head, Cards & Payments at Axis Bank, emphasized the bank's commitment to creating digital differentiators across the merchant and consumer lifecycle. Sarathi aims to deliver a superior experience for merchants, providing them with feature-rich terminals and instant gratification in line with evolving customer expectations.
Improved Efficiency and Productivity
By expediting the onboarding process and offering top-notch terminals, Sarathi not only benefits the merchant community but also enhances efficiency and productivity for Axis Bank's sales teams. The platform enables sales teams to serve merchants more effectively, ensuring a seamless and efficient onboarding experience.
Also Read: RBI expects banks to completely stop using LIBOR by July
Find More News Related to Banking