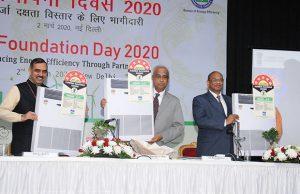 Bureau of Energy Efficiency (BEE) agency of the Government of India, under the Ministry of Power, has launched star rating programme for Light Commercial Air Conditioners (LCAC) and Deep Freezers, in its 19th foundation day in New Delhi.
The program will be initially launched involuntary mode from 2nd March 2020 to 31st December 2021. Thereafter, it will be made mandatory after reviewing the degree of market transformation in this particular segment of appliances. A deep freezer is used for food, fruits, Contains long-term preservation of vegetable-like substances. Light commercial air conditioners come with AC ranging from DSC (Digital Security Controls) Series 3-5 Tons.
What is Star Labeling Programme?
The Star Labeling Programme has been formulated by the Bureau of Energy Efficiency, under the Energy Conservation Act, 2001. It is a user-friendly platform that explains the energy efficiency landscape of India across industry, appliances, building, transport, municipal and agriculture sectors. Through this initiative, it is expected to save around 2.8 Billion Units by FY2030, which is equivalent to Greenhouse Gas (GHG) reduction of 2.4-million-ton Carbon Dioxide.
Important takeaways for all competitive exams:
Bureau of Energy Efficiency(BEE) Director-General: Shri Abhay Bakre.
Bureau of Energy Efficiency Headquarters: New Delhi.
Bureau of Energy Efficiency Parent organization: Ministry of Power.
Find More Miscellaneous News Here