Bharat Mandhapm: Location and Significance
Situated within New Delhi's Pragati Maidan, Bharat Mandapam stands as a symbol of India's hosting of the G20 Summit. This remarkable venue will serve as the backdrop for pivotal discussions among world leaders, including Joe Biden, Rishi Sunak, and Emmanuel Macron. Moreover, it will host the 'working lunch' hosted by Prime Minister Narendra Modi for these esteemed global leaders.
Bharat Mandhapm: Inauguration and Cutting-edge Facilities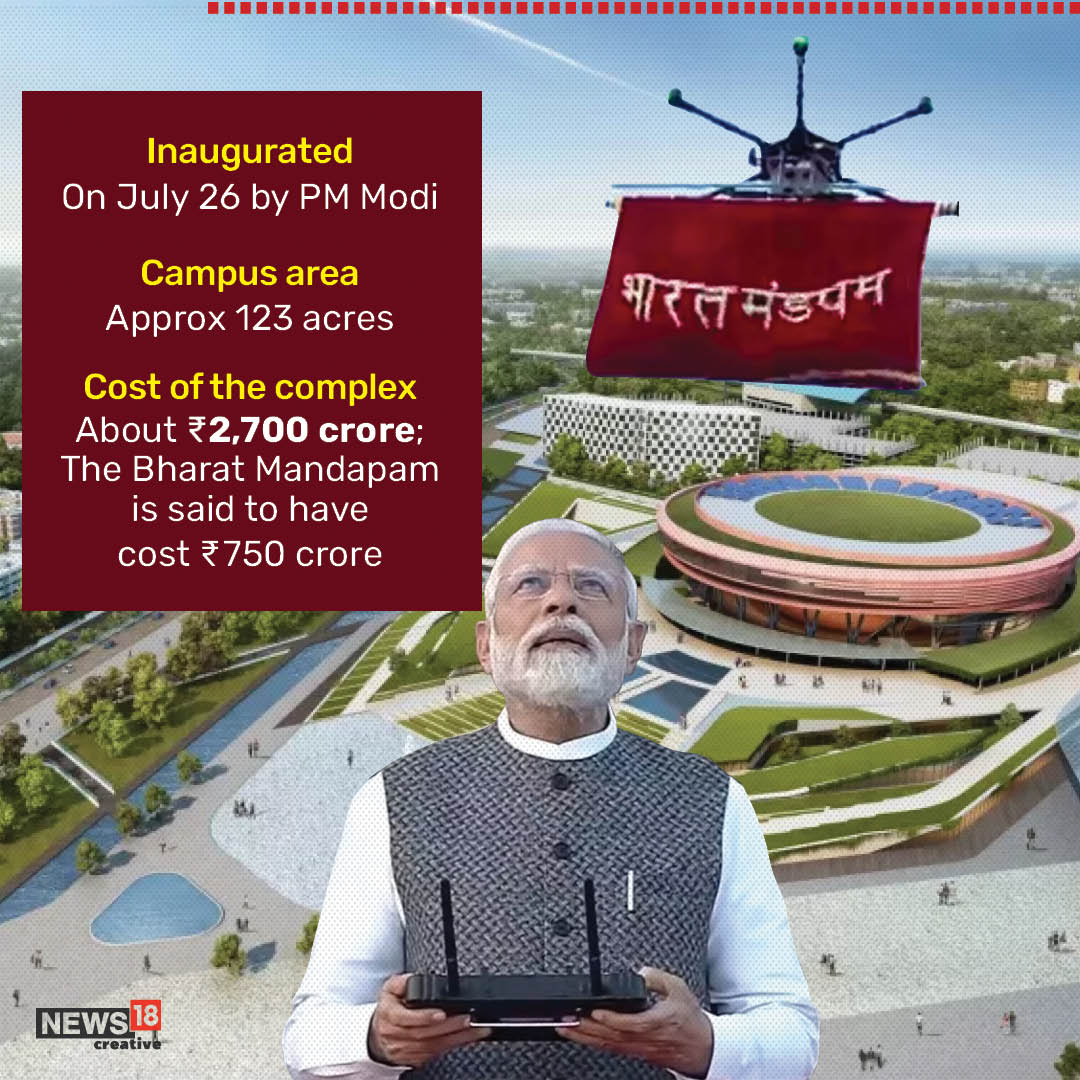 Officially inaugurated on July 26 by Prime Minister Narendra Modi, Bharat Mandapam boasts cutting-edge amenities. These include state-of-the-art exhibition halls, a convention center, and an amphitheater.
Diverse Cultural Showcase
During the G20 summit, Bharat Mandapam will transcend its role as a summit venue. It will transform into a stage for a vibrant tapestry of traditions from 29 different countries, creating a rich cultural exchange. The venue will also feature both physical and virtual exhibitions, offering an immersive experience for visitors.
Monumental Nataraja Statue
A prominent feature of Bharat Mandapam is the monumental bronze statue of Nataraja, standing at a towering height of 27 feet. Crafted from Ashtadhatu and weighing approximately 18 tons, this sculpture is a masterpiece by renowned sculptor Radhakrishnan Sthapaty, hailing from Swami Malai in Tamil Nadu. Remarkably, he completed this awe-inspiring work in just seven months.
Global Business Hub
Bharat Mandapam is designed to promote India as a premier global business hub. Its architectural marvel is intended to host large-scale international exhibitions, trade expos, conventions, conferences, and various prestigious assemblies.
Impressive Facilities
The venue includes an impressive multi-purpose hall and plenary hall capable of accommodating up to seven thousand attendees, surpassing the seating capacity of Australia's Sydney Opera House.
Bharat Mandhapm: Cost
Built at an investment of approximately Rs 2,700 crores, Bharat Mandapam is equipped with numerous meeting rooms, auditoriums, lounges, an amphitheater, and a fully-equipped business center, making it suitable for a wide range of events.
Bharat Mandhapm: Massive Campus and Global Recognition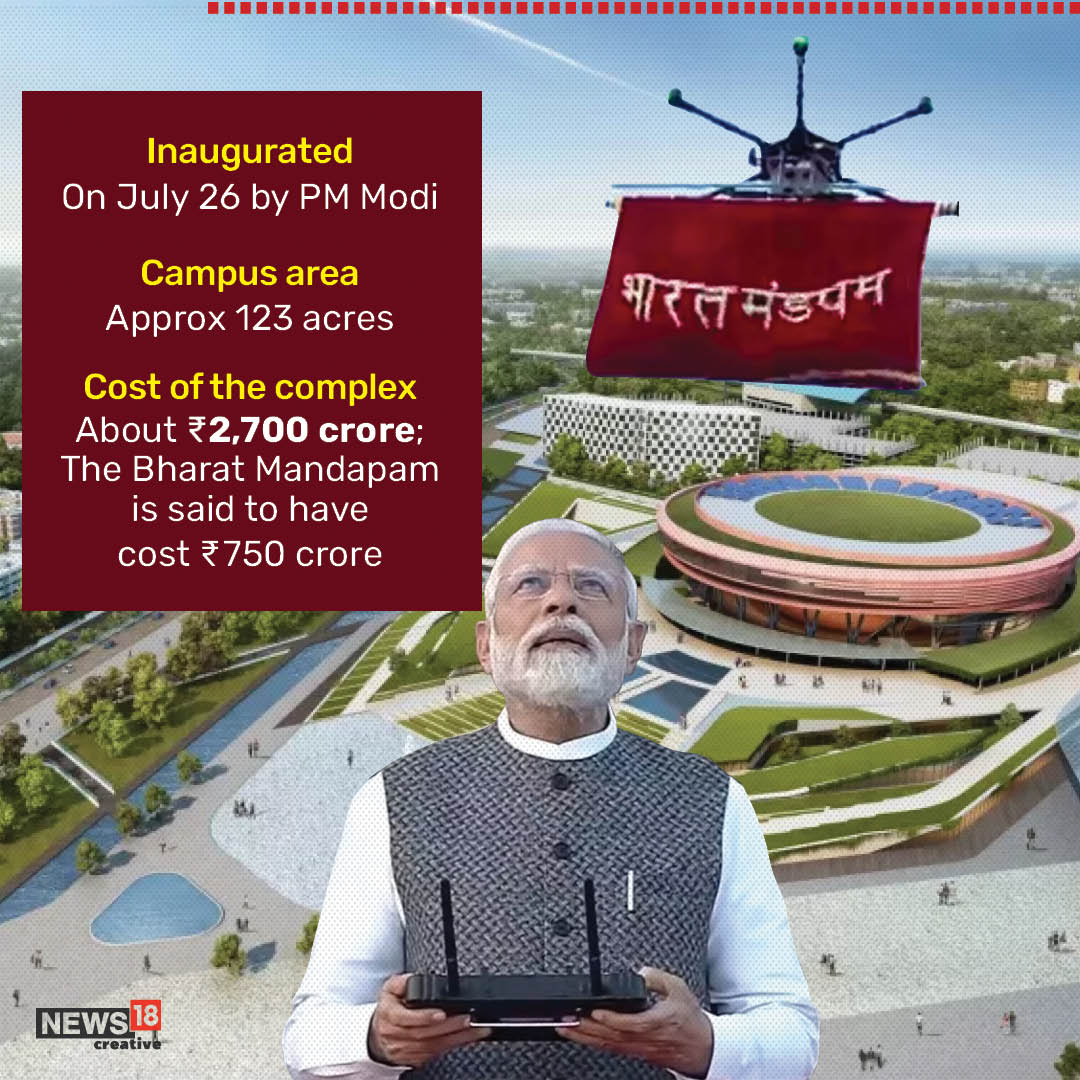 Covering an expansive area of 123 acres, Bharat Mandapam is developed as India's largest MICE (Meetings, Incentives, Conferences, and Exhibitions) destination. Its world-class facilities and vast campus position it among the top exhibition and convention complexes globally.
Bharat Mandapam: A Conceptual Origin
Bharat Mandapam's Inspiration
Bharat Mandapam draws its inspiration from "Lord Basaveshwara's concept of Anubhav Mandapam," which served as a platform for public ceremonies. It embraces this legacy by offering comprehensive facilities and extensive amenities for the public, aligning with India's aspiration to become a contemporary and developed society.
Bharat Mandapam's Architectural Grandeur
Design Reflecting Tradition
The architectural design of Bharat Mandapam draws inspiration from India's rich traditions. The building's shape is reminiscent of the elegant form of the Shankha, or conch shell. Its elliptical design, devoid of sharp edges, mirrors the fluidity of the Yamuna River, which meanders through the city. This design theme extends to the pavilions and galleries within the venue.