Agartala, the capital city of Tripura, is a place of historical significance and natural beauty. Nestled in the northeastern region of India, Agartala has been making strides towards becoming a smart city, a vision that aligns with the changing aspirations and needs for its citizens. In this article, we will delve into the rich history of Agartala and explore its journey towards smart city status.
Capital of Tripura – Historical Background
The name "Agartala" is believed to have been derived from the words 'Agar' and 'Tala', which refer to the density of Agarwood trees in the region. This small, picturesque city is situated on the banks of the Howrah River and is located just a few kilometers away from the geographical border of Bangladesh. Agartala's history is replete with tales of ancient kings and dynasties. One of the earliest Kings, Patardan, ruled in 1900 BC., long before the Manikya Dynasties.
In 1660, Maharaja Krishna Manikya shifted the capital of Tripura from Udaipur to Old Agartala. Later, King Krishna Kishore Manikya moved the capital to its present-day location. Agartala Municipality, one of the oldest in India, was established in 1871. In the years 1936-37, the ruling king of the state prepared a Masterplan for Agartala, which marked one of the first modern concepts of urban planning.
An Overview of Capital of Tripura
Smart City: Agartala is one of the cities selected for development under the Smart Cities Mission, an initiative by the Government of India to create sustainable urban living spaces.
Etymology of Agartala: The name "Agartala" is derived from "Agar," which means a valuable perfume and incense tree and "Tala," which means underneath. The city's name reflects its connection to the fragrant world of Agartala.
Haora River: Agartala is situated along the banks of the Haora river, enhancing its picturesque landscape.
High Literacy Rate: With a commendable literacy rate of 86.18%, Agartala places a strong emphasis on education and knowledge.
Official Language: Bengali is the official state language of Agartala, reflecting its cultural diversity and heritage.
An Overview of Tripura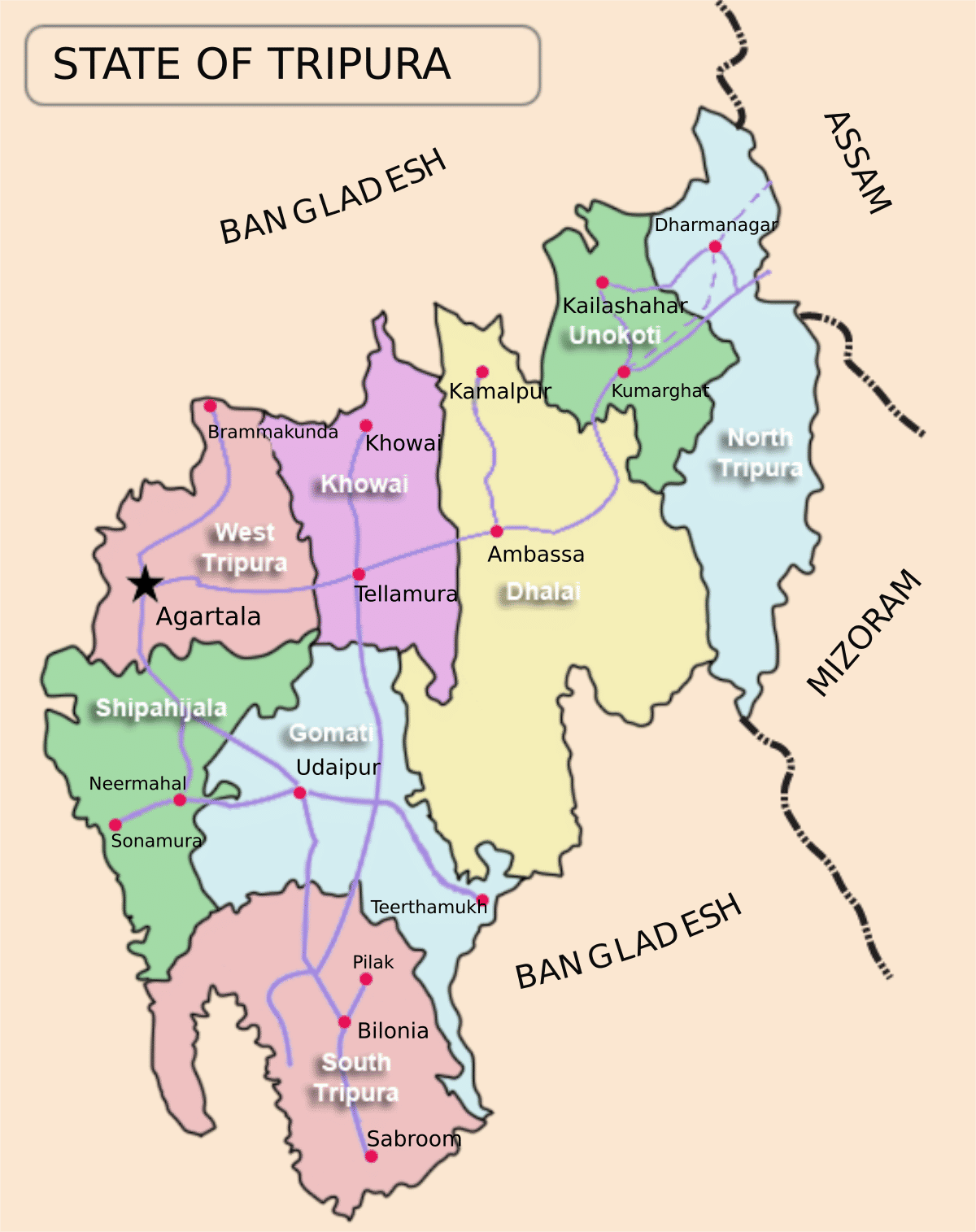 Tripura is the third-smallest state in India and despite its size, it holds a significant place in the nation.
Tripura shares an international boundary with Bangladesh, fostering cultural and economic ties with its neighboring country.
Assam and Mizoram are the Indian states that share their borders with Tripura, contributing to the region's cultural diversity.
For centuries, the Manikya Dynasty ruled over Tripura, leaving behind a rich historical legacy.
Football and cricket are the most popular sports in Tripura. Notable athletes like Somdev Devvarman and Dipa Karmakar have roots in the state.
Bengali, English and Kokborok (Tripuri) are the official languages of Tripura, showcasing the state's linguistic diversity.
Tripura is the second most populous state in the northeastern region, reflecting its cultural significance and diversity.
Tripura ranks sixth in the Human Development Index (HDX), highlighting its progress in health, education and overall well-being.
Find More General Studies News Here