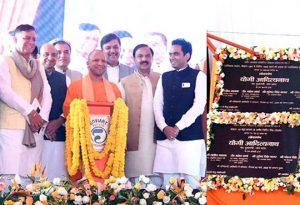 Uttar Pradesh Chief Minister Yogi Adityanath inaugurated and laid foundation stones for 23 development projects worth Rs 2,821 crore at Gautam Buddh Nagar in Noida on 3rd March 2020. Among the 23 projects, 13 projects were inaugurated at the total worth of Rs 1,452 crore, while foundation stones were laid for 10 projects worth Rs 1,369 crore.
The various project setting up:
India's biggest multi-level parking with space for 7,000 vehicles at Sector 38A, Rs 500 crore.
Underground parking for 276 cars and 42 two-wheelers at Sector 5, Rs 32.25 crore.
A government hospital in Sector 39, Rs 344 crore.
Three power substations at Sector 148, Rs 366 crore.
Two power substations at Sector 38A, Rs 98.45 crore and Rs 10 crore.
A foot-over bridge at Sector 145 metro station (Rs 10.81 crore), another in Sector 62 (Rs 5 crore), one between Sector 71 and 72 (Rs 5 crore) and four pink toilets in sectors 16, 15, 28 and 74 (altogether costing Rs 0.76 crore).
Important takeaways for all competitive exams:
Anandiben Patel is the current Governor of Uttar Pradesh.