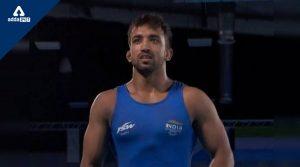 Indian wrestler Naveen Malik won the gold medal in the men's 74kg freestyle wrestling at the 2022 Commonwealth Games at the Coventry Stadium and Arena. Naveen defeated Muhammad Sharif Tahir of Pakistan. The Indian seemed to have the edge over Tahir in terms of speed and used it to his advantage to open the scoring with a two-point takedown. He went for the kill to score two more takedowns and earned a comprehensive 9-0 win.
Commonwealth Games 2022 Medal Tally
Naveen has had a splendid 2022: he won gold at the U-23 Asian Championship, bronze at the Senior Asian Championship and finished fifth at the Bolat Turlykhanov Cup. Naveen, from Dharmpal in Sonepat.