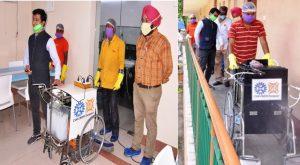 Two mobile indoor Disinfection Sprayer units namely Pneumatically Operated Mobile Indoor Disinfection (POMID), and Battery Powered Disinfectant Sprayer (BPDS) have been developed by the scientists at CSIR-Central Mechanical Engineering Research Institute (CMERI), Durgapur. The application of these units includes effective cleaning and disinfecting pathogenic micro-organism, especially in hospitals.
Click Here To Get Test Series For SBI PO 2020
Periodic usage of disinfecting units POMID & BPDS will assist in minimizing the risk of transmitting coronavirus to people who accidentally come in contact with those surfaces. These units can be used in cleaning and disinfecting frequently touched surfaces like tables, doorknobs, light switches, handles, phones, keyboards, toilets, sinks, cardboards etc.
The disinfecting units POMID & BPDS comprises of a sprayer system which is designed with two-stage spraying units and separate storage tanks to clean and disinfect the indoor areas by the numbers of fixed and flexible nozzles set in the lower and upper tiers.