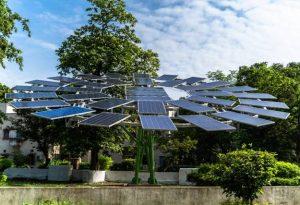 World's Largest Solar Tree has been developed by the CSIR-CMERI. The solar tree has been installed at the Residential Colony of CSIR-CMERI in Durgapur, West Bengal. The solar tree has the annual capacity to generate 12,000-14,000 units of Clean and Green Power while its installed capacity is above 11.5 kWp.
WARRIOR 3.0 | Banking Awareness Batch for SBI, RRB, RBI and IBPS Exams | Bilingual | Live Class
The Solar Tree has been designed in such a way that it ensures maximum exposure of each Solar PV Panel to Sunlight. A single solar tree comprises of 35 Solar PV Panels each having a capacity of 330 wp each. The energy generation data of the tree can be monitored either real-time or on daily basis. This tree will also ensure minimum Shadow Area which will make it available for usage in Agricultural activities like High Capacity Pumps, e-Tractors and e-Power Tillers.