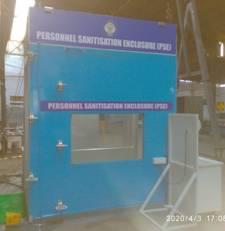 Amid 21-days nationwide lockdown in India, Defence Research and Development Organisation (DRDO) has been using scientific endeavours to develop products in an accelerated manner to combat COVID-19 pandemic. As a result of its efforts, DRDO has developed Personnel Sanitisation Enclosures (PSE) and Full Face Mask (FFM) to protect primarily healthcare professionals from novel coronavirus.
Click Here To Get Test Series For SBI PO 2020
About Personnel Sanitisation Enclosure (PSE):
Personnel Sanitisation Enclosure (PSE) is a full body disinfection chamber which has been designed by Vehicle Research Development Establishment (VRDE), Ahmednagar, a DRDO Laboratory. The PSE is equipped with sanitiser and soap dispenser, applicable for personnel decontamination, one person at a time. The chamber comprises of mist spray which has been calibrated for an operation of 25 seconds and stops automatically indicating completion of operation. It includes a tank of capacity 700 litres along with mounted roof and it can decontaminate 650 personnel until the refill is required.
About Full Face Mask (FFM):
A face protection mask "Full Face Mask" has been developed by Research Centre Imarat, Hyderabad and Terminal Ballistics Research Laboratory, Chandigarh, for health care professionals handling COVID-19 patients. The light weight construction of the mask enables the user to wear it for long duration. It also comprises of commonly available A4 size Over-Head Projection (OHP) film for the protection of face. The holding frame is being manufactured with the help of Fused Deposition Modeling (3D printing).