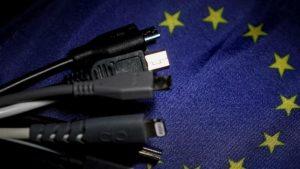 According to a new law passed by the European Union parliament, all new smartphones, tablets and cameras will have a single standard charger from late 2024. The law was adopted with a vote of 602 in favour, and 13 against. It mandates smartphone, laptop and camera manufacturing companies to adopt a standard charger, at least in Europe. Makers of laptops will have extra time, from early 2026, to also follow suit.
Bank Maha Pack includes Live Batches, Test Series, Video Lectures & eBooks
Why this decision was taken by EU policymakers?
EU policymakers say the single charger rule will simplify the life of Europeans, reduce the mountain of obsolete chargers and reduce costs for consumers. It is expected to save at least 200 million euros ($195 million) per year and cut more than a thousand tonnes of EU electronic waste every year.
The European Union's 27 countries are home to 450 million people who count among the world's wealthiest consumers. Regulatory changes in the bloc often set global industry norms in what is known as the Brussels Effect. The EU move is expected to ripple around the world.
Who will be most affected by the decision?
While, most of the Android phones come with USB Type-C charging ports, the move will have a impact on Apple mainly. The new measure will push Apple to drop its outdated Lightning port on its iPhones for the USB-C one already used by many of its competitors. The world's second-biggest seller of smartphones after Samsung, already uses USB-C charging ports on its iPads and laptops.
Apple also offers wireless charging for its latest iPhones — and there is speculation it might do away with charging ports for cables entirely in future models. But currently the wireless charging option offers lower power and data transfer speeds than USB-C.
Important Takeaways For All Competitive Exams:
European Union Founded

:

 

1 November 1993, Maastricht, Netherlands;

European Union Founders

:

 

Germany, France, Italy, Netherlands, Belgium, Luxembourg.