In a recent development, Fitch, the renowned rating agency, has upgraded India's mid-term GDP growth forecast to 6.2%. This favorable revision has implications for India's economic outlook, as well as the emerging markets globally. Here's a breakdown of the key points from Fitch's report.
Upward Revision to India's GDP Growth
Fitch's upgrade of India's gross domestic product (GDP) mid-term growth forecast is a significant move. The agency has increased the projection by 70 basis points, raising it to 6.2% from the previous estimate of 5.5%. This revision highlights growing confidence in India's economic potential.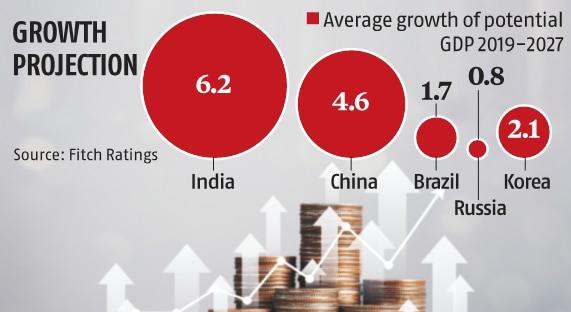 China's Impact on Emerging Markets
Fitch's report points out that China's economic performance played a pivotal role in influencing the forecast for emerging countries. The estimate for 10 emerging nations collectively has been reduced to 4% from 4.3% due to China's economic challenges. Specifically, China's supply-side growth potential saw a significant reduction of 0.7 percentage points, which had a cascading effect on the overall estimate.
China's Economic Projection
China's own mid-term growth forecast has been adjusted downward, now standing at 4.6% instead of the earlier 5.3%. This reflects the challenges facing China's economy, which have repercussions for the region and the world.
Gains for India and Mexico
While China's slowdown had a dampening effect on the emerging market outlook, Fitch's report also highlights significant upgrades for India and Mexico. Mexico benefits from an improved capital-to-labor ratio outlook. India, on the other hand, saw a substantial increase in its growth estimate, rising from 5.5% to 6.2%.
2023-24 Projections
Looking ahead, Fitch's projections for India's economic growth in 2023-24 indicate an expectation of 6.3% growth. This suggests continued optimism in the country's economic prospects.
Revisions in Other Emerging Markets
Notably, Fitch has revised the growth forecasts for several other emerging markets. Russia's forecast has been reduced to 0.8% from 1.6%, Korea to 2.1% from 2.3%, and South Africa to 1% from 1.2%. These revisions are influenced by a combination of factors, including demographic trends and lingering disruptions from the pandemic.
Find More News on Economy Here