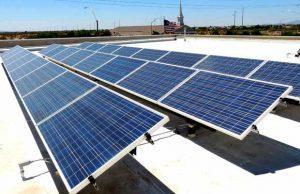 Gujarat ranks first in the list for domestic solar rooftop installations with 64% of domestic solar installations. Nearly 50,915 systems being fixed on domestic rooftops in the State as on March 2, 2020. The State government of Gujarat has adopted a solar rooftop scheme "Surya Gujarat" to cover about eight lakh domestic electricity consumers under the scheme by 2022. Maharashtra ranks second in the list with 5,513 installations as on the same date. About 79,950 systems have been installed throughout the country has a capacity of 322 MW.
The government of Gujarat had also relaxed subsidy criteria for domestic users with up to 40% subsidy on the cost of projects up to 3 kWh capacity, while 20% subsidy assistance is being provided for project with a capacity between 3 and 10 kWh.
What is a Solar rooftop?
Solar rooftop is solar panels placed on top of roofs of commercial, institutional or residential buildings. They capture the light energy emitted by the sun and convert it into electrical energy. This setup is also known as a solar rooftop photo-voltaic system. It produces a clean, Eco-friendly form of energy, meaning that it's which does not produce any type of pollution or harmful gases.
Important takeaways for all competitive exams:
Chief Minister of Gujarat: Vijay Rupani; Governor of Gujarat: Acharya Dev Vrat.
Gir Forest National Park and Wildlife Sanctuary, also known as Sasan Gir, is a forest and wildlife sanctuary near Talala Gir in Gujarat, India.
The Sardar Sarovar Dam is a gravity dam on the Narmada river near Navagam, Gujarat.
Find More Ranks and Reports Here