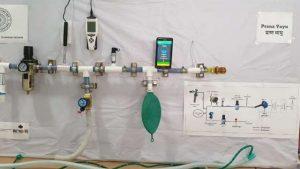 IIT-Roorkee has developed a low-cost portable ventilator called 'Prana-Vayu' in association with AIIMS-Rishikesh, which can be manufactured for just ₹25,000. The ventilator will be useful for a wide degree of congestions in the respiratory tract and is applicable for all age group patients, especially the elderly. This closed-loop ventilator equipped with state-of-the-art facilities & can prove useful in ensuring the safety of coronavirus (COVID-19) patients.
Click Here To Get Test Series For SBI PO 2020
How does 'Prana-Vayu' Ventilator work?
The ventilator is based on the controlled operation of the prime mover to deliver the required amount of air to the patient. Its automatic process regulates the pressure and flow rate according to breathing and release. The ventilator also has an arrangement that can control the tidal volume and breath per minute.
The research began at the Tinkering Laboratory in IIT-Roorkee by a team of IIT Roorkee consists of Prof. Akshay Dvivedi and Prof. Arup Kumar Das who received online support from Debendra Tripathi from AIIMS, Rishikesh.
Important takeaways for all competitive exams:
Director of IIT-Roorkee: Ajit K. Chaturvedi.
Headquarters of IIT-Roorkee: Roorkee, Uttarakhand.