New satellite imagery reveals the effect of Europe's 'winter heatwave' in the thick of the continent's winter skiing season. An image posted by the European Union's Copernicus Programme shows a distinct lack of snow surrounding the Swiss town of Altdorf, which is close to skiing resorts.  In Altdorf, the temperature reached 66.5°F (19.2°C) on New Year's Day and did not fall below 60.9°F (16.1°C) during the night, breaking a previous record set in 1864. Warsaw in Poland also hit 66°F (18.9°C), smashing its own January record by over 9°F (5°C).
Buy Prime Test Series for all Banking, SSC, Insurance & other exams
What More Has Been Seen:
The new satellite image was captured by Sentinel 2, one of the Earth observation satellites that makes up the Copernicus Programme. According to the programme, 2023 has started with 'a historic heatwave' affecting Europe, with many countries observing the warmest temperature on record for January 1, potentially due to human-caused climate change.
Most Affected Countries:
According to meteorologists, European countries including Denmark, Netherlands, Poland and Czech Republic had their warmest January day on record on New Year's Day.  Abed in Denmark reached 54.6°F (12.6°C), while Korbielow in Poland reached 66.2°F (19°C) and Javornik in Czech Republic hit 67.2°F (19.6°C).  Bilbao in Spain also experienced its hottest ever January day on January 1, reaching 77.2°F (25.1°C).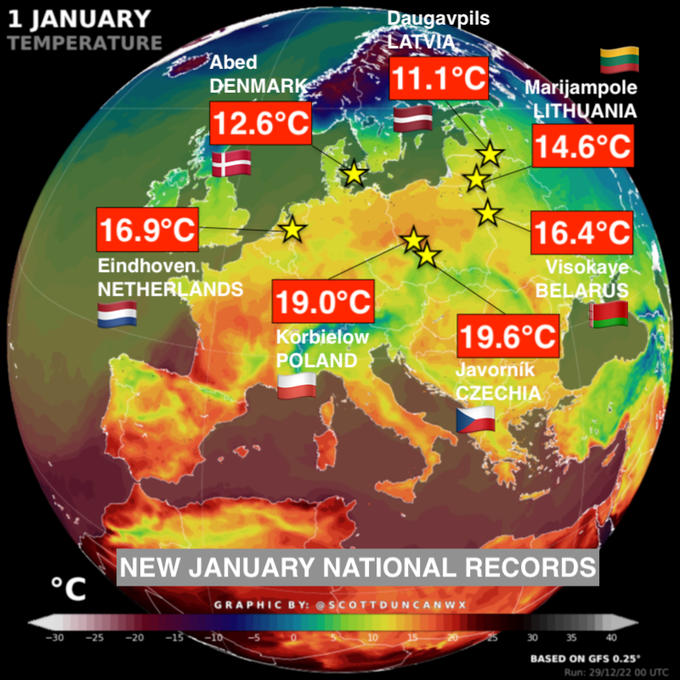 What Is The COPERNICUS Programme:
The multi-billion Copernicus programme aims to help predict weather phenomena such as El Nino and track the progress of global warming.
There are three lots of twin satellites currently orbiting the Earth, named Copernicus Sentinel-1, 2 and 3. Their data can also help shipping companies chart more efficient routes and may be used to monitor forest fires, water pollution and oil spills.
Is this climate change: A Debate in Europe:
According to the UK Met Office, this record-breaking heat was partly due to a warm air mass from the west coast of Africa. According to the Swiss news site The Local, MeteoSwiss said that the extreme temperatures north of the Alps were also partly attributed to the Foehn effect — a phenomenon similar to Chinook winds, where air flowing down the lee side of the mountains warms up as it descends. It's difficult to attribute a single day's temperatures to climate change. However, this was clearly a remarkable and unprecedented event.