India's collaboration with Russia's Arctic region is on the rise, evidenced by its substantial contribution to cargo handled at Murmansk port. This strategic port, positioned about 2,000 km northwest of Moscow, serves as a key northern gateway for Russia, and in the first seven months of 2023, it handled a total of eight million tonnes of cargo. Notably, India's share accounted for 35% of this cargo, primarily consisting of coal destined for the eastern coast of India.
India's Dominant Role in Cargo Handling: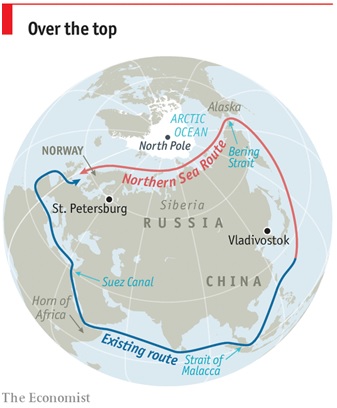 India emerges as a significant player in the cargo operations of Murmansk port, responsible for 35% of the handled cargo. This impressive figure underscores India's economic and trade connections with the Arctic region.
Strengthening Arctic Maritime Routes:
India's engagement extends to the Northern Sea Route (NSR), a crucial shipping pathway connecting the Asia-Pacific region and western Eurasia. The NSR offers a shorter route than traditional alternatives, enhancing the efficiency and safety of maritime transport.
Navigational Challenges and Icebreaking:
Navigating the NSR comes with challenges, including icebound Arctic seas for a substantial part of the year. The critical role of icebreaking in maintaining a functional route falls to FSUE Atomflot, a subsidiary of Rosatom, which operates nuclear-powered icebreakers.
NSR: An Alternative to Suez Canal?
While not a direct alternative to the Suez Canal, the NSR reduces the geographical gap between Europe and the Asia-Pacific region. This shorter route offers significant potential for decreasing the carbon footprint of maritime transport due to nuclear-powered icebreakers and enhanced navigation efficiency.
India-Russia Collaborative Maritime Initiatives:
India and Russia are exploring collaborative initiatives for the development of the NSR. A proposal to establish a sea corridor linking Chennai and Vladivostok is under consideration. This corridor aims to bolster international container transit through the NSR, involving a logistics hub in Vladivostok and ship-to-ship transshipment to optimize delivery times and route profitability.
 Find More International News Here