India Extends $1 Billion Credit Line to Sri Lanka Amid Economic Crisis:
In the midst of an economic crisis, India has decided to extend a $1 billion credit line to Sri Lanka for another year, providing the much-needed funds to pay for essential imports. The credit line is part of the $4 billion emergency assistance extended by India to Sri Lanka during its peak crisis time last year.
Buy Prime Test Series for all Banking, SSC, Insurance & other exams
Record Low Reserves Trigger Sri Lanka's Worst Financial Crisis:
In April last year, Sri Lanka's reserves dropped to record lows, triggering its worst financial crisis since its independence from Britain in 1948. The country struggled to pay for essential imports such as fuel, cooking gas, and medicine, and defaulted on its foreign debt.
$3 Billion IMF Bailout Package and Debt Restructuring Talks:
Sri Lanka has since secured a $3 billion bailout package from the International Monetary Fund in March and has kicked off debt restructuring talks with key bilateral creditors India, Japan, and China. Meanwhile, the central bank has kept interest rates steady in April.
Extension of Credit Line and Increase in Foreign Exchange Availability:
Following detailed negotiations between the two nations, India has decided to extend the $1 billion credit line for another year, allowing Sri Lanka the much-needed back-up funds to pay for essential imports. Sri Lanka's Deputy Treasury Secretary has confirmed that the credit line is extended till March 2024, and there is about $350 million left that can now be used as needed. The official also noted that since foreign exchange availability has increased in the market, the need has subsided since last year.
Inflation Rates Ease, Projected to Hit Single Digits by December:
In April, Sri Lanka's key inflation rate eased to 35.3% from 50.3% in March, showing signs of relief in the country. The Colombo Consumer Price Index reflected a reduction in food inflation to 30.6% in April from 47.6% in March, while non-food inflation reached 37.6%. The Central bank Governor has projected that Sri Lanka's inflation will hit single digits by the end of December.
About Sri-lanka, key points: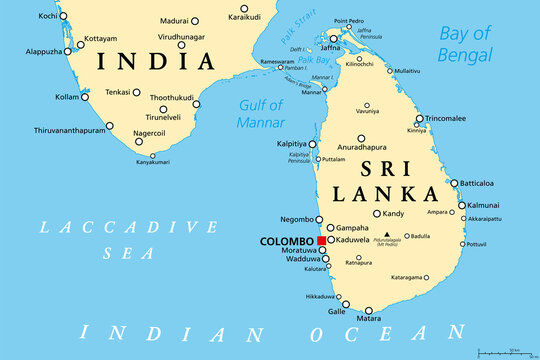 Sri Lanka is a country located in South Asia, an island nation in the Indian Ocean, southeast of India.
Its capital is Sri Jayawardenepura Kotte, while the largest city is Colombo.
The President of Sri Lanka is Ranil Wickremesinghe, who assumed office in May 2022.
The Prime Minister of Sri Lanka is Dinesh Gunawardena, who took office on July 22, 2022.
The official languages of Sri Lanka are Sinhala and Tamil, while English is also widely spoken.
Sri Lanka's economy is mainly based on agriculture, with tea, rubber, and coconuts being some of its major exports. It also has a growing tourism industry and a developing manufacturing sector.
Sri Lanka has several important ports, including the Port of Colombo, which is one of the busiest ports in South Asia and a major transshipment hub.
Sri Lanka has a long history and culture, with several UNESCO World Heritage sites, such as the ancient city of Anuradhapura and the Sigiriya rock fortress.
Sri Lanka has a diverse population, with Sinhalese being the largest ethnic group followed by Tamils and Muslims.
Sri Lanka has had a turbulent political history, including a long civil war that ended in 2009 after more than 25 years of conflict.
Also Read: 
Find More International News Here