On July 13, 2023, during Prime Minister Narendra Modi's state visit to France, India and France signed a groundbreaking agreement that allows Indian tourists to use India's Unified Payments Interface (UPI) for transactions in rupees.
This partnership marks a significant milestone as it brings UPI, a popular mobile-based payment system, to Europe for the first time after its successful implementation in Singapore. The move is set to revolutionize the payment experience for Indian tourists in France, eliminating the need to carry foreign currency and offering convenience and flexibility.
UPI's Global Expansion: A Journey Across the Globe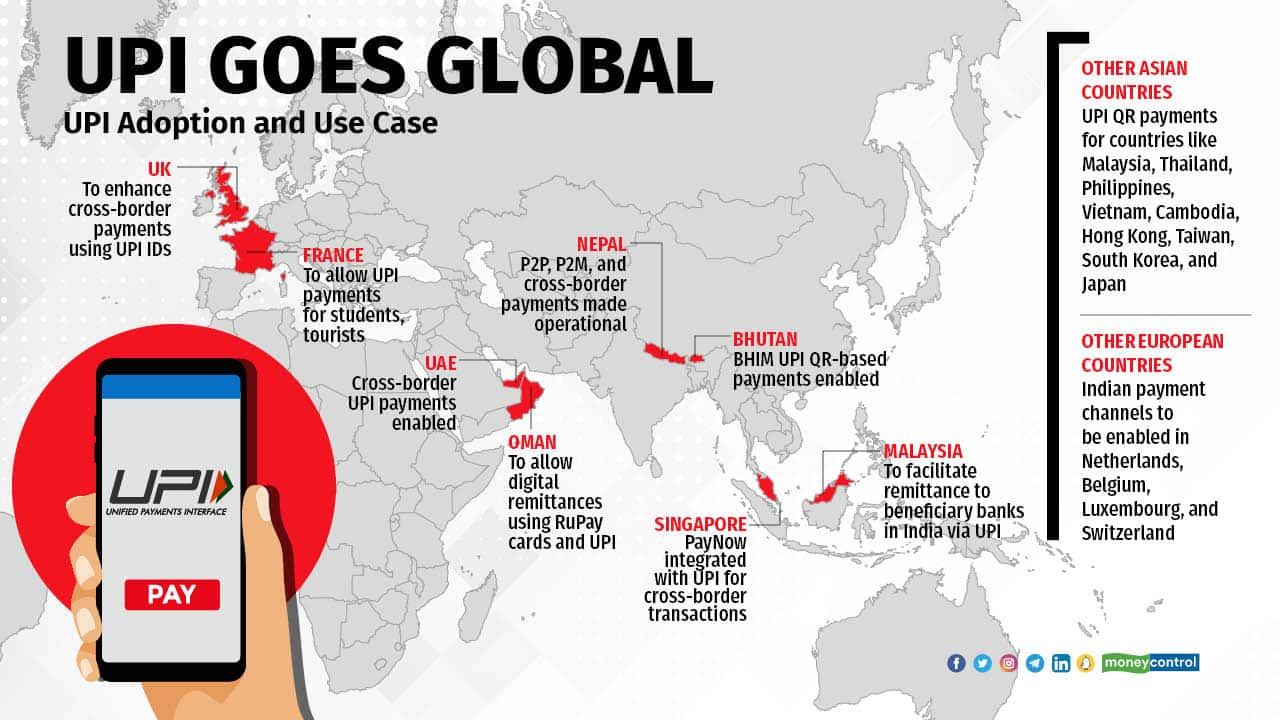 Since its inception, UPI has steadily expanded its reach globally through strategic partnerships. France is the latest addition to the list of countries that have embraced the UPI system for cross-border transactions. Prior to this agreement, UPI had already established itself in countries like Singapore, Bhutan, Nepal, and the UAE.
Countries that have adopted different forms of Indian payment systems include France, UAE, Saudi Arabia, Bahrain, Singapore, Maldives, Bhutan, and Oman. This means that Indian users can now use UPI, RuPay, and other digital payment channels in these countries, making transactions easier and more convenient.
NIPL: Forging Global Partnerships
The NPCI International Payments Limited (NIPL), established as a wholly-owned subsidiary of the National Payments Corporation of India (NPCI) in April 2020, is actively forging partnerships with different countries to create a widespread acceptance network for RuPay and UPI. This network enables Indian travelers to make payments using these digital payment channels in their destination countries.
Empowering Indian Tourists with Effortless Transactions
With the implementation of UPI in France, Indian tourists can now transact in rupees with ease. They can use local QR codes or UPI IDs to make payments, eliminating the hassles of carrying and exchanging foreign currency. This newfound convenience allows tourists to spend according to their needs rather than being restricted to fixed amounts of foreign exchange.
Savings on Foreign Exchange Markup Charges
Traditionally, international payments made with credit or debit cards incur foreign exchange markup charges, which can be as high as 3.5% of the transaction amount, depending on the card's features. While some financial institutions offer forex cards with lower markup fees, UPI payments in rupees provide even greater savings. Since transactions occur in rupees, there is no need for foreign currency conversion, saving travelers from additional fees.
UPI and the Liberalized Remittance Scheme (LRS)
Under the Foreign Exchange Management Act (FEMA), travel-related expenses fall within the purview of the Liberalized Remittance Scheme (LRS). As a result, Tax Credited at Source (TCS) provisions apply as per the norm. While international debit cards, prepaid forex cards, and direct foreign exchange purchases are subject to TCS, credit card spending is exempt. However, not all establishments accept credit cards, making it necessary to carry cash. With UPI payments now available in France, this necessity is eliminated, making transactions smoother for Indian tourists.
   Find More International News Here