Introduction:
Goldman Sachs analysts project India to become the world's second-largest economy by 2075.
The report suggests India will surpass the US in terms of GDP, reaching $52.5 trillion by 2075.
China is expected to overtake the US to become the largest economy by the 2030s.
Population and Progress:
India's burgeoning population and progress in innovation and technology are driving its economic forecast.
Higher capital investment and rising worker productivity contribute to India's economic growth.
The country's dependency ratio is expected to be one of the lowest among regional economies.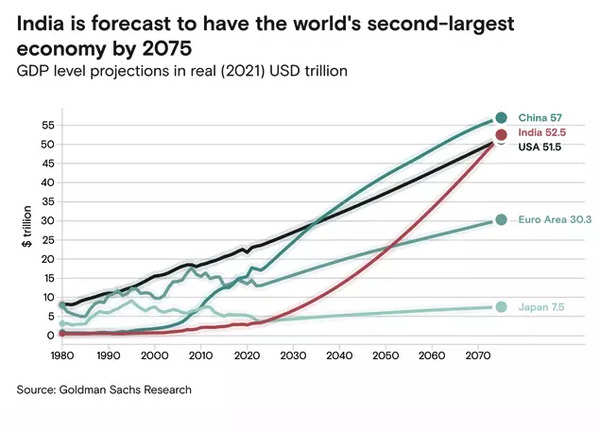 Boosting Labor Force:
Goldman Sachs Research's India economist emphasizes the need to boost the participation of India's labor force.
India aims to set up manufacturing capacity, continue growing services, and invest in infrastructure.
The government's focus on infrastructure creation, including roads and railways, supports this goal.
Technology and Investments:
India's progress in technology and innovation, particularly in the IT industry, drives economic growth.
Revenue in India's technology industry is expected to increase by $245 billion by the end of 2023.
Capital investment is projected to play a significant role in India's future growth.
Risks and Challenges:
The Achilles heel of the projection lies in the labor force participation rate, particularly for women.
The report highlights a decline in the overall labor force participation rate in India over the last 15 years.
Low participation of women in formal employment remains a challenge to India's economic progress.
India's Domestic Demand:
India's economy is driven by domestic demand, with up to 60% of its growth attributed to domestic consumption and investments.
The country's economic growth relies less on exports compared to other economies in the region.
Other Predictions:
S&P Global and Morgan Stanley also predict that India will become the third-largest economy by 2030.
India's first-quarter GDP grew by 6.1% year-on-year, exceeding expectations.
The full-year growth for the current fiscal year is estimated at 7.2%.
Here's a table summarizing the key information from the article:
| Topic | Key Points |
| --- | --- |
| Projection | India to surpass US and become 2nd largest economy by 2075 |
| GDP Projections | China: $57 trillion by 2075; India: $52.5 trillion by 2075; US: $51.5 trillion by 2075 |
| Population and Progress | Burgeoning population, innovation, technology, capital investment, and rising worker productivity drive India's forecasted growth |
| Boosting Labor Force | Emphasis on boosting labor force participation, manufacturing capacity, services, and infrastructure |
| Technology and Investments | India's progress in technology, IT industry revenue expected to increase by $245 billion by 2023 |
| Risks and Challenges | Declining labor force participation rate, low participation of women in formal employment |
| India's Domestic Demand | Economy driven by domestic consumption and investments, less reliant on exports |
| Other Predictions | S&P Global and Morgan Stanley also predict India to be the third-largest economy by 2030 |
| Recent GDP Growth | India's first-quarter GDP grew by 6.1% year-on-year, exceeding expectations |
| Conclusion | India has the potential for significant economic growth, but challenges need to be addressed for sustained progress |