In August, India's retail inflation, as measured by the Consumer Price Index (CPI), showed signs of moderation, dropping to 6.83% from 7.44% in July. However, it remained above the Reserve Bank of India's (RBI) target range of 4+/-2%.
Factors Driving Inflation Drop: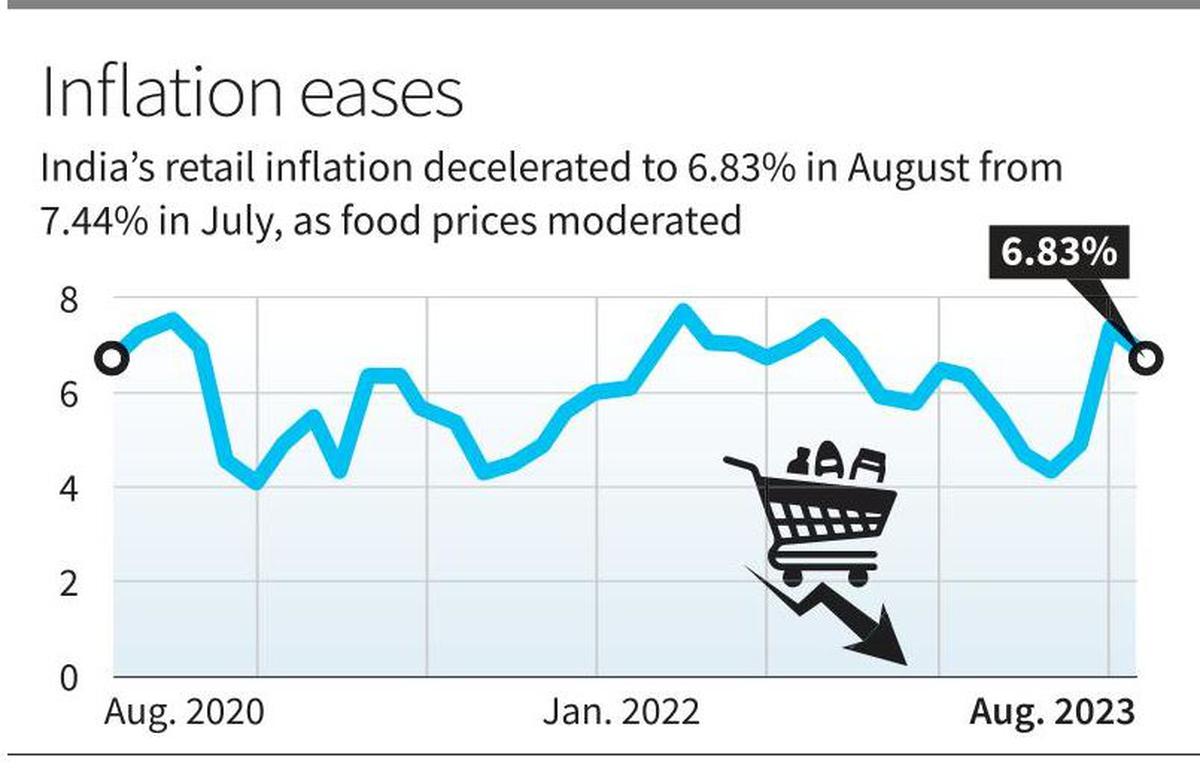 Vegetable prices cooled, contributing to the decline in inflation.
August's CPI is 61 basis points lower than July's 15-month high.
Despite the decrease, it continues to exceed the RBI's acceptable range.
This is the fourth instance of CPI breaching the RBI's upper limit in 2023.
RBI's Inflation Target:
The RBI's medium-term inflation target is 2-6%, and they have projected CPI inflation at 5.4% for 2023-24.
Urban and Rural Inflation Trends:
Urban CPI: Urban CPI slowed to 6.59% from 7.20% in July.
Rural CPI: Rural inflation fell to 7.02% from 7.63% in the previous month.
Food Inflation: Food inflation, accounting for half of the CPI basket, rose to 9.94% from 2.91% in the previous month.
Inflation Trends Across Indian States in August 2023
Lowest Inflation in Delhi, Highest in Rajasthan
In August 2023, Delhi recorded the lowest inflation rate among all Indian states, standing at 3.09%.
Rajasthan, on the other hand, experienced the highest inflation rate in the country during the same period.
Regional Inflation Rates
Northern Region
Delhi: Reported the lowest inflation rate at 3.09%.
Jammu & Kashmir and Ladakh (Union Territories): Combined inflation rate stood at 5.45%.
Eastern Region
Assam: Registered an inflation rate of 4.01%.
West Bengal: Recorded an inflation rate of 4.79%.
Central Region
Chhattisgarh: Experienced an inflation rate of 5.52%.
Major States Inflation Rates
Across the majority of major states, the year-on-year (YoY) inflation rates for both rural and urban areas, as well as the combined rate, ranged from 6% to 8% in August 2023.
States with High CPI Inflation
In August 2023, four states reported Consumer Price Index (CPI) inflation rates exceeding 8%:

Rajasthan: Recorded the highest CPI inflation rate at 8.60%.
Telangana: Reported an inflation rate of 8.27%.
Himachal Pradesh: Also recorded an inflation rate of 8.27%.
Odisha: Experienced an inflation rate of 8.23%.
Detailed Commodity Price Movements:
Vegetables: Prices increased by 26.1% in August, compared to a staggering 37.34% rise in July.
Oils and Fats: Prices declined by 15.3%, following a 16.8% drop in the previous month.
Cereals: Prices remained in double digits, rising by 11.6% in August, compared to 13% in July.
Milk and Milk Products: Inflation came in at 7.7% compared to 8.34% in the previous month.
Data Collection Methodology:
Data Sources: The price data were collected from 1,114 urban markets and 1,181 villages, covering all states/union territories.
Data Collection Rate: In August 2023, data were collected from 99.6% of villages and 98.3% of urban markets.
Market-wise Prices: Market-wise prices were reported at 88.8% for rural areas and 91.3% for urban areas.
July's Inflation Surge:
Context: In July 2023, retail inflation surged to a 15-month high of 7.44% due to rising food prices, particularly vegetables.

Food Inflation: The consumer food price index inflation rose to 11.51% in July, with food and beverages inflation reaching 10.57%.

Vegetable Inflation: Inflation in vegetables spiked to 37.34% from a deflation of -0.93% in June.
Find More News on Economy Here