In September, the services sector in India experienced a significant boost in both domestic and international demand, reaching a 13-year high, according to a survey-based index by S&P Global Market Intelligence. This index, known as the Purchasing Managers' Index (PMI), climbed to 61, up from 60.1 in August. Despite this growth, job creation was moderate.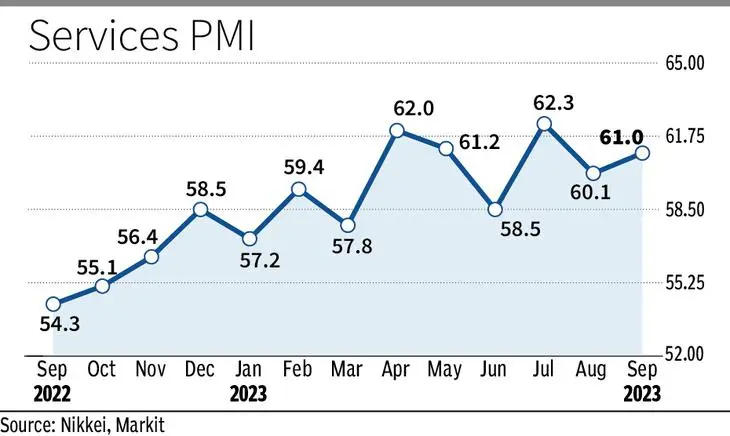 Positive News for Service Economy
Business activity and new work intakes in the services sector surged to levels not seen in over 13 years.
Both domestic and international sales to Asia, Europe, and North America contributed to this growth.
The services sector accounts for 54% of Gross Value Added (GVA) in India's economy.
Job Creation and Optimism
Job creation in the sector was moderate but sustained.
Firms hired additional staff to handle current workloads and prepare for future growth.
Business optimism about the future was high, driven by robust demand conditions.
Price Trends
Input cost inflation in September was relatively low, close to its long-run average.
Some expenses increased for items like chicken, rice, vegetables, and transportation.
Companies either raised selling prices or kept them unchanged to manage cost increases.
Overall charge inflation was solid but the softest in six months.
Future Outlook
Companies are optimistic about the future, with survey participants foreseeing strong market dynamics and continued high demand in the coming year.
Confidence in the outlook reached its highest level in over nine years.
Find More News on Economy Here