The Union Cabinet, under the leadership of Prime Minister Shri Narendra Modi, has approved the signing of a Memorandum of Understanding (MoU) between the Institute of Chartered Accountants of India (ICAI) and The Chartered Accountants of the Maldives (CA Maldives). This strategic partnership aims to foster cooperation in the field of accounting, promoting professional development, intellectual growth, and mutual advancement for the accounting professions in both India and the Maldives.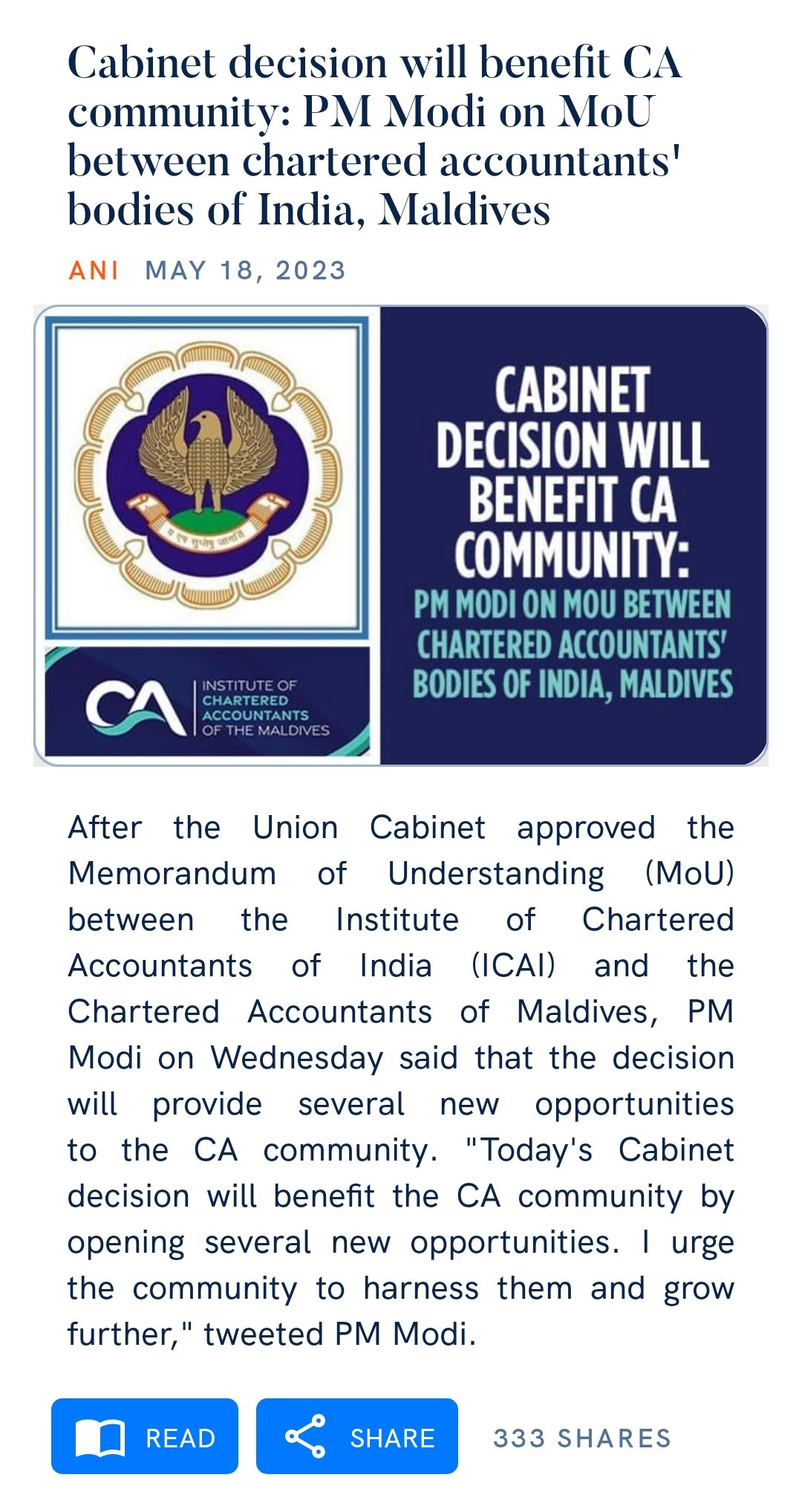 Buy Prime Test Series for all Banking, SSC, Insurance & other exams
Strengthening Professional Opportunities
The MoU between ICAI and CA Maldives is expected to create new avenues for professional opportunities in the Maldives for ICAI members. This partnership will facilitate the export of accounting services, allowing ICAI members to contribute to the development and growth of the accountancy profession in the Maldives. With many ICAI members already holding influential positions in organizations across countries, their expertise and insights can positively impact decision-making and policy strategies.
Expanding Professional Horizons
The MoU offers ICAI members the chance to broaden their professional horizons by gaining exposure to the Maldivian accounting landscape. Through collaboration, the agreement seeks to strengthen the capacity building of local professionals in the Maldives, promoting knowledge exchange and professional development. Furthermore, this partnership will enhance the working relations between India and the Maldives, opening up new dimensions for business opportunities globally.
Implementation Strategy and Targets
The MoU outlines a comprehensive implementation strategy, focusing on various aspects of the accountancy profession. Both ICAI and CA Maldives will engage in the exchange of views, information, and best practices related to professional accountancy training, professional ethics, technical research, and the overall development of accountants. The collaboration will involve mutual cooperation through activities such as website linkages, seminars, conferences, student exchange programs, and joint initiatives beneficial to both institutes. Additionally, ICAI will conduct technical due diligence to support CA Maldives in becoming a member of the International Federation of Accountants (IFAC), a prestigious global organization representing the accounting profession.
Benefits for India, the Maldives, and Global Business
The MoU between ICAI and CA Maldives is expected to bring numerous benefits to all stakeholders involved. By strengthening cooperation and knowledge-sharing, the partnership will enhance the professionalism and quality of accounting practices in both countries. It will also promote the accountancy profession globally, highlighting the contributions of Indian and Maldivian accountants. The agreement is anticipated to increase the mobility of professionals between India and the Maldives, facilitating the exchange of expertise and fostering business collaborations on an international scale.
You may also read this: