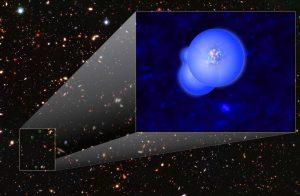 An international team of astronomers funded in part by NASA has found the farthest galaxy group identified as "EGS77". EGS77, the trio of galaxies dates to a time when the universe was only 680 million years old, or less than 5% of its current age of 13.8 billion years. EGS77 is the farthest group of galaxies to have ever been sighted. EGS77 was discovered as part of the Cosmic Deep And Wide Narrowband (Cosmic DAWN) survey. The team of astronomers was led by an Indian-origin Goa-born scientist, Vithal Tilvi.
Vithal Tilvi is currently a visiting researcher at the School of Earth & Space Exploration, at the Arizona State University, US.
Important takeaways for all competitive exams:
Headquarters of NASA: Washington, D.C.
Established: July 29,1958.
Source: The Economic Times