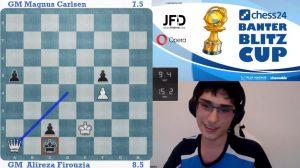 16-year-old Iranian refugee, Alireza Firouzja beats World Chess Champion Magnus Carlsen in the final of the Banter Blitz Cup 2020 and to claim the $14,000 prize. Firouzja, an Iranian now living in Paris, is is the second-youngest player to reach a rating of 2700 from Fédération Internationale des Échecs (FIDE), the body that governs international chess competition. He is ranked 21st in the world.
Click Here To Get Test Series For SBI PO 2020
Banter Blitz Cup Rules:
A knockout in which every player must stream and commentate live on their games
Each match is played in 3-minute games, with no increment
It's best of 16 games, i.e. the first player to reach 8.5 points wins
If the players are tied they play a mini-match of two 3-minute games
If still tied they play another two-game mini-match
If still tied they switch to 1-minute games and play as many 2-game mini-matches as required to produce a winner
Important takeaways for all competitive exams:
FIDE Headquarters:

Lausanne, Switzerland.

FIDE President: 

Arkady Dvorkovich.

FIDE Founded: 

20 July 1924.