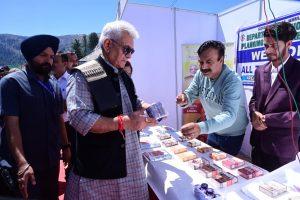 Manoj Sinha, the lieutenant governor, has opened a Tulip Garden in the Jammu region at Sanasar's Ramban Hill Resort. The garden spans five acres (40 Kanals) and is part of a ₹6.91 crore initiative. It is an expansion of the existing Tulip Garden, which was established on four kanals of land two years ago. The new garden is situated between the proposed golf course and the current lake.
Buy Prime Test Series for all Banking, SSC, Insurance & other exams
A garden that covers an area of 40 Kanals and contains 2.75 lakh tulip bulbs of 25 various types has been established in the Ramban region. The garden is located amidst verdant green forests, and it is anticipated to stimulate tourism and commercial activities. Additionally, it was announced that a 2.5 km narrow road connecting Sanasar to the proposed Jawahar Navodaya Vidyalaya site at Gali, which is situated beyond Sanasar, will be constructed shortly. This road will eventually link to Nashri.
About the Tulip Garden:
The Tulip Garden is a newly established garden located in the Ramban district's Sanasar area in the Jammu region. It covers an area of 40 Kanals (five acres) and contains 2.75 lakh tulip bulbs of 25 different varieties. The garden is situated between an existing lake and a proposed golf course, and it is an expansion of the previous tulip garden that was set up two years ago on four kanals of land. The garden is expected to promote tourism and commercial activities in the region. It is surrounded by lush green woods, and visitors can enjoy a vibrant display of tulips in various colors and shapes.
You may also read this:
Bihar's aromatic 'Marcha Rice' gets GI tag
Find More Miscellaneous News Here