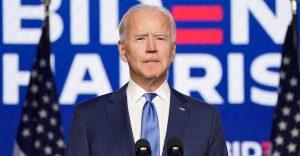 Joseph Robinette Biden Jr. has defeated Donald Trump to become the 46th U.S. president. Biden will become the oldest president-elect in U.S. history and the first to oust a sitting commander-in-chief after one term since Bill Clinton defeated George H.W. Bush in 1992. Biden's electoral college vote to 290, surpassing the 270 needed to win the White House. Biden's running mate, California Senator Kamala Harris, becomes the first Black and Indian-American woman to serve as vice president.
WARRIOR 4.0 | Banking Awareness Batch for SBI, RRB, RBI and IBPS Exams | Bilingual | Live Class
About Joseph Robinette Biden Jr:
Biden Jr. was born November 20, 1942, at St. Mary's Hospital in Scranton, Pennsylvania. A member of the Democratic Party, Biden previously served as the 47th vice president from 2009 to 2017 and United States Senator for Delaware from 1973 to 2009.
About Kamala Harris:
Harris was born on October 20, 1964, in Oakland, California. She has served as the junior United States senator from California since 2017. Her mother, Shyamala Gopalan, a biologist whose work on the progesterone receptor gene stimulated work in breast cancer research, had arrived in the U.S. from Tamil Nadu in India in 1958 as a 19-year-old graduate student in nutrition and endocrinology at the University of California, Berkeley. Her father, Donald J. Harris, is a Stanford University professor emeritus of economics, who arrived in the U.S. from British Jamaica in 1961 for graduate study at UC Berkeley, receiving a PhD in economics in 1966.