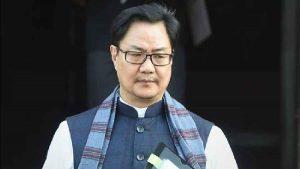 Union minister Kiren Rijiju said after launching the trailer of the "first ever" movie in Tagin language of his home state Arunachal Pradesh. The film looks at displaying the culture of the Tagin community before the whole country and the world.
Buy Prime Test Series for all Banking, SSC, Insurance & other exams
About the movie:
The film depicts the vibrant and colorful world of the 90s, based on the Tagin community in Upper Subansiri district of Arunachal Pradesh and the first film made entirely in Tagin language. Directed by Tapen Natam, the film brings to the national platform the rich culture, tradition and local filmmaking initiatives of Arunachal Pradesh.
The film highlights the love story of two youths amidst the challenges faced by this community in Arunachal Pradesh during the 1990s. The film not only celebrates local talent and filmmaking initiatives, but also offers a unique perspective on the struggles and triumphs of the Tagin community. Through this film, viewers can witness the beauty and rich heritage of Tagine culture and traditions.
About the Tagin or Ghasi Miri tribe
The Tagin or Ghasi Miri tribe is an indigenous community residing in the Tawang and West Kameng districts of Arunachal Pradesh, India. They are a sub-tribe of the Monpa community and are primarily involved in agriculture, animal husbandry, and horticulture.
The Tagin people have a rich cultural heritage, and their traditional customs and practices are an integral part of their daily lives. They celebrate various festivals and rituals throughout the year, including the Losar festival, which marks the Tibetan New Year.
The Tagin language belongs to the Tibeto-Burman language family and is also known as Tagin-Hilmiri. It is spoken by around 20,000 people in the Tawang and West Kameng districts of Arunachal Pradesh.
In recent years, the Tagin community has faced various challenges, including threats to their land and natural resources, as well as issues related to healthcare and education. However, efforts are being made by the government and various organizations to address these challenges and promote the welfare of the Tagin people.
You may also read:
Find More Miscellaneous News Here