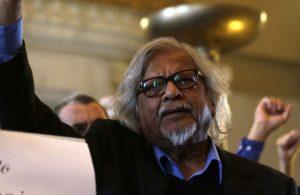 Mahatma Gandhi's grandson Arun Gandhi passed away at Kolhapur in Maharashtra. Born to Manilal Gandhi and Sushila Mashruwala in Durban on April 14, 1934, Arun Gandhi followed in the footsteps of his grandfather as an activist. Arun Gandhi is an Indian-American activist, speaker, and writer who is known for his work in promoting nonviolence and social justice.
Buy Prime Test Series for all Banking, SSC, Insurance & other exams
About the Arun Gandhi 
Arun Gandhi was born on April 14, 1934, in Durban, South Africa, and is the fifth grandson of Mohandas Karamchand Gandhi, also known as Mahatma Gandhi, the leader of the Indian independence movement.
Arun Gandhi spent his early years in South Africa, where he experienced racial discrimination and apartheid firsthand. In 1946, at the age of 12, he moved to India to live with his grandfather, who became his mentor and taught him the principles of nonviolence and satyagraha (the power of truth). Arun Gandhi later moved to the United States and became a citizen.
Throughout his life, Arun Gandhi has worked to promote nonviolence and social justice, both in the United States and internationally. He has spoken and written extensively on the subject, and has worked with organizations such as the M.K. Gandhi Institute for Nonviolence and the Gandhi Worldwide Education Institute.
Arun Gandhi is the author of several books, including "Legacy of Love: My Education in the Path of Nonviolence" and "The Gift of Anger: And Other Lessons from My Grandfather Mahatma Gandhi." He has received numerous awards for his work, including the Peace Abbey Courage of Conscience Award and the Light of Truth Award from the Dalai Lama.