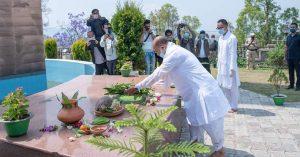 The Government of Manipur commemorated "Khongjom Day" at Khongjom War Memorial Complex, Thoubal, Manipur. This day is observed to remember the people who valiantly fought in the Anglo-Manipuri War in 1891.
Khongjom War Memorial Complex is a historical site that holds the tallest statute of Sword in the world, was constructed in remembrance of the people who fought in the war.
What is Anglo-Manipuri War?
In 1891, the Anglo-Manipur War was fought between the British government and the kingdom of Manipur. This war lasted between 31st March and 27th April and ended with the British victory and crowned Meidingngu Chaurachand on 22nd September 1891. The war was fought in the Kheba hills of Khongjom in Manipur in which the soldiers fought the three side attack of the british form Silchar, Kohima and Myanmar.
Important takeaways for all competitive exams:
Manipur Chief Minister: N. Biren Singh.
Governor of Manipur: Najma Heptulla.
Keibul Lamjao National Park is a beautiful place, located in the Bishnupur district of the state of Manipur. The only floating park in the world, located in North East India, and an integral part of Loktak Lake.