India is grappling with severe air pollution issues, with Mumbai ranking as the second most polluted city according to IQAir, a leading air quality measurement company. Delhi, the capital, also faces significant air quality challenges, ranking sixth globally. The air quality index (AQI) measures pollution levels, indicating the health risks associated with breathing the air.
Alarming Air Quality Levels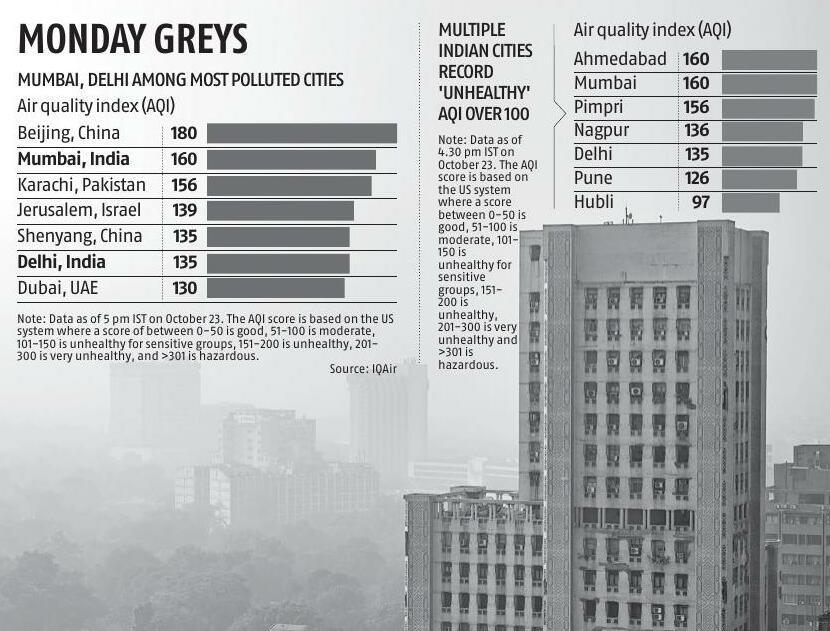 Mumbai's AQI reached 160, far surpassing the safe limit, with fine particulate matter (PM2.5) concentration being 14.7 times higher than the World Health Organization's guidelines.
Delhi, too, experienced dangerous pollution levels, exceeding the guidelines by 9.8 times.
Human Cost
 A study published in The Lancet revealed that around 1.6 million deaths in India in 2019 were attributed to air pollution.
The economic toll was staggering, amounting to billions of dollars in losses, with premature deaths accounting for $28.8 billion and morbidity adding $8 billion to the burden.
Economic Impact Across States
Uttar Pradesh suffered the highest economic loss at $5.1 billion due to air pollution, followed by Maharashtra ($4 billion), Gujarat ($2.9 billion), Karnataka ($2.7 billion), and Tamil Nadu ($2.5 billion).
Delhi experienced the highest per-capita economic loss, underscoring the severity of the crisis.
Regional Trends
In South Asia, India witnessed a drastic 54.8% increase in particulate matter between 2000 and 2021, indicating a worsening trend.
Bangladesh, Afghanistan, and Pakistan also faced significant rises in pollution levels during this period.
Find More Ranks and Reports Here