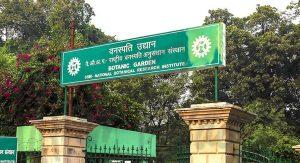 In the wake of growing demand for sanitizers amid COVID-19 outbreak, the National Botanical Research Institute (NBRI) has created an alcohol-based herbal sanitizer. An alcohol-based herbal sanitizer has been developed under the Council of Scientific and Industrial Research, CSIR-Aroma Mission following the guidelines of World Health Organisation. This newly made herbal sanitizer constitutes Tulsi essential oil as herbal constituent and isopropyl alcohol. The Tulsi essential oil is a strong natural antimicrobial agent while the isopropyl alcohol will be helpful in killing germs.
Click Here To Get Test Series For SBI PO 2020
The alcohol-based herbal sanitizer will be available under the brand name of 'Clean Hand Gel'. The impact of herbal sanitizer will last for about 25 minutes, preventing skin from dehydrating.
Important takeaways for all competitive exams:
Director of National Botanical Research Institute: Dr. S.K. Barik.
Find More Miscellaneous News Here