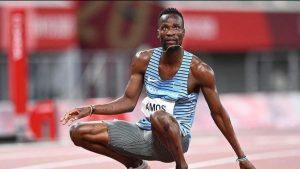 According to the Athletics Integrity Unit, Nijel Amos, who won a silver medal in the men's 800m at the 2012 Olympics, has been given a three-year ban for doping. Amos, who hails from Botswana, tested positive for the banned substance GW1516 in the lead-up to last year's track world championships. However, he received a reduction on the standard four-year ban for admitting to the charges. Unfortunately, this means that Amos will not be able to participate in the Paris Olympics next year due to the ban.
Buy Prime Test Series for all Banking, SSC, Insurance & other exams
Overview of the news:
Nijel Amos was provisionally suspended pending an investigation in July last year, and his three-year ban for doping has been backdated to that date. Therefore, the ban will continue until 2025, which implies that the 29-year-old athlete will be unable to participate in the 2024 Paris Olympics. Amos received a one-year reduction in the ban duration, which would typically be four years, as he acknowledged his guilt and accepted the suspension early on.
Nijel Amos had requested that a supplement be tested for the presence of GW1516, but the test did not find any trace of the drug in opened and sealed bottles. GW1516 is designed to increase endurance and reduce fat, but it has been found to cause cancer in rodent tests.
Anti-doping organizations have warned athletes not to use it due to safety concerns. In the past, the drug has been detected in samples from professional cyclists and Olympic race walker Elena Lashmanova. Lashmanova received a two-year ban and was later stripped of the 20km gold medal she won at the 2012 Olympics for another doping violation.
In 2012, Amos, then 18, took silver in the 800m at the London Games in what many called the greatest Olympic race in history. Kenyan David Rudisha lowered his world record. Amos matched Seb Coe as the third-fastest man in history in the event (1:41.73). Every runner's time was the fastest ever for that finishing placement. Amos has not won an Olympic or world championships medal since.
In July 2019, he ran 1:41.89, the world's best time since that London Olympic final. At the Tokyo Olympics, Amos and American Isaiah Jewett got tangled in the final lap of their semifinal. In an act of good sportsmanship, the runners helped each other up and later jogged across the finish line together in the last two places. Amos was granted a place in the final and finished eighth.
You may also read this: