The Prime Minister, Shri Narendra Modi, graced the occasion commemorating the 20th anniversary of the Vibrant Gujarat Global Summit. This prestigious event took place at Science City in Ahmedabad, a city that has witnessed the remarkable transformation of Vibrant Gujarat over the past two decades.
The Evolution of the Vibrant Gujarat Global Summit: A 20-Year Journey
The inception of the Vibrant Gujarat Global Summit occurred two decades ago, precisely on September 28, 2003, under the forward-thinking guidance of the former Chief Minister of Gujarat, Shri Narendra Modi. As years passed, it evolved into an internationally recognized event, establishing itself as one of India's foremost business summits.
Leaders of Industry Share Their Insights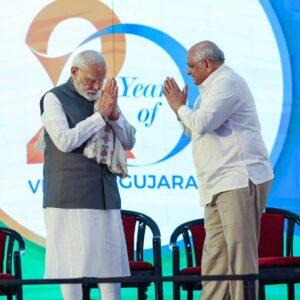 Distinguished leaders of industry gathered to reflect on the incredible journey of Vibrant Gujarat.
B K Goenka: A Role Model for States
B K Goenka, Chairman of Welspun lauded the summit as a global event that serves as a role model for other states. Mr. Goenka recalled Shri Modi's advice during the first Vibrant Gujarat, which led to successful expansion in the Kutch region. Today, Kutch is poised to become a hub of green hydrogen production.
Takashi Suzuki: Japan's Strong Partnership
Takashi Suzuki, Chief Director General of Jetro (South Asia), extended congratulations to the Gujarat Government for the summit's 20th anniversary. He emphasized Japan's significant contribution to the Make in India initiative and highlighted the deepening cultural and business ties between Japan and Gujarat. Suzuki credited Prime Minister Modi's guidance for Jetro's presence in Gujarat and invited a Japanese business delegation for future collaborations.
Lakshmi Mittal: Shaping India's Investment Landscape
Lakshmi Mittal, Executive Chairman of ArcelorMittal, recognized Vibrant Gujarat as the trendsetter that inspired similar events across India. He commended Prime Minister Modi's vision and leadership, highlighting Gujarat's status as a leading industrial state. Mr. Mittal also provided insights into ArcelorMittal's projects in Gujarat.
Prime Minister's Vision for India's Global Economic Leadership
The Prime Minister remarked, "When we initiated Vibrant Gujarat, our objective was to position this state as the catalyst for the nation's advancement. He went on to mention that the 2014 goal of making India the world's growth engine is gaining recognition among international organizations and experts.
Today, India stands as the fastest-growing economy globally. We are now at a pivotal juncture where India is poised to emerge as a major global economic force. Our aspiration is for India to claim the position of the third-largest economy in the world," he stated.
Seeds of Transformation
Prime Minister Modi highlighted the challenging circumstances that Gujarat faced in the early 2000s, including the 2001 earthquake, drought, and the Madhavpura bank crisis. Despite these difficulties, he expressed his unwavering confidence in the people of Gujarat and pledged to lead the state out of its predicament.
Birth of Vibrant Gujarat
Vibrant Gujarat emerged as a means to uplift the state's spirits and engage with the world. It showcased Gujarat's decision-making prowess and the nation's potential in various sectors. The summit also presented opportunities, talent, and India's cultural richness on a global stage.
Prime Minister Modi detailed the summit's growth from a few hundred participants in 2003 to over 40,000 participants from 135 countries in recent editions. He emphasized the importance of combining audacious ideas with effective implementation.
Prime Minister's Reflections on the 20th Anniversary of Vibrant Gujarat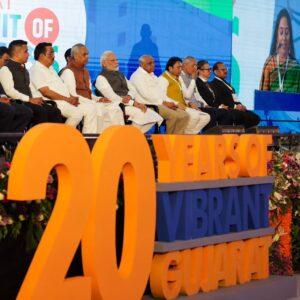 Speaking to the assembled audience, the Prime Minister observed that the efforts initiated two decades ago have blossomed into the vibrant and multifaceted phenomenon we now know as Vibrant Gujarat. He expressed his joy at being part of the 20th-anniversary festivities of the Vibrant Gujarat Summit.
Emphasizing that Vibrant Gujarat isn't just a branding exercise for the state but a means to fortify connections, the Prime Minister stressed that the summit symbolizes a strong and enduring link between himself and the abilities of the state's 70 million residents.
A Catalyst for Development
Vibrant Gujarat's success stories include substantial growth in investments, employment, and exports across sectors like textiles, automobiles, agro-processing, medical devices, diamonds, ceramics, and defense manufacturing. Prime Minister Modi noted that it had transformed Gujarat into an industrial and manufacturing hub.
Towards a Self-Reliant India
The Prime Minister urged industrialists to focus on sectors that could propel India's growth. He emphasized the need to nurture the startup ecosystem, promote agri-tech, and boost food processing. He also highlighted the increasing relevance of GiFT City for financial cooperation.
Looking to the Future
Prime Minister Modi concluded by stating that the next 20 years are crucial, as India aspires to become a developed and self-reliant nation by its centenary of independence in 2047. He expressed hope that Vibrant Gujarat would continue to move in this direction.