In the initial seven months of the financial year 2023-24 (April-October), India's export landscape witnessed notable dynamics, with the Netherlands, the UK, and Australia emerging as pivotal drivers of the nation's outbound shipments. Preliminary data from the commerce ministry underscores the positive impact of these markets on India's export performance during this period.
Noteworthy Growth in Key Markets
Among India's top 10 export destinations, the Netherlands, the UK, and Australia exhibited resilience, contributing significantly to the positive trajectory in shipments. This stands in contrast to the prevailing negative trends in exports to most other countries during the same period.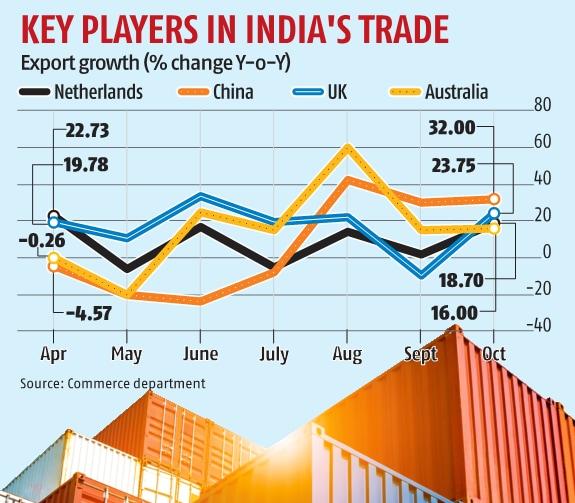 China's Impact on Exports
While India experienced muted growth in shipments to China, registering a modest 0.8% increase during the April-October period, the overall export scenario demonstrated signs of improvement. Notably, the commerce department reported positive growth in August (3.8%) and October (6.2%), signaling a potential turnaround.
Mixed Overall Export Performance
Despite the positive growth in specific months, India's overall exports contracted by 7% in the April-October period. Experts attribute the growth in October to a favorable base from the previous year, as shipments had declined sequentially from September to October.
Global Trade Landscape
The World Trade Organization (WTO) delivered a cautious outlook for global merchandise trade volume, revising its growth projection for 2023 downward to 0.8% from the earlier forecast of 1.7% in April. However, the WTO slightly increased its forecast for 2024 to 3.3%, suggesting a tentative recovery in goods trade.
Key Drivers of Export Growth
Examining the April-September period, Indian exports to Australia were propelled by petroleum products ($2.8 billion) and medicines for retail sale ($188 million). Similarly, shipments to the UK were driven by petroleum products ($743 million), smartphones ($494 million), medicines for retail sale ($261 million), and turbo jets ($211 million).
Netherlands: A Strategic Hub
The Netherlands, functioning as a vital trans-shipment hub for the European Union, played a significant role in India's export dynamics. Notably, the European nation emerged as a key importer of Indian petroleum products ($5.6 billion) following the Russia-Ukraine war. Other critical export items to the Netherlands included smartphones ($484 million), medicines for retail sale ($161.5 million), and aluminum ($159 million).
Evolution of Export Performance
In April, exports contracted to seven out of India's top 10 export destinations, excluding the Netherlands, the UK, and Saudi Arabia. However, by October, the export landscape had evolved positively, with double-digit growth recorded in shipments to the USA, the UAE, the Netherlands, China, the UK, Saudi Arabia, Bangladesh, and Australia. Notably, exports shrank only to Singapore during this period.
Find More News on Economy Here