The Reserve Bank of India (RBI) has approved the transfer of Rs 87,416 crore surplus to the government for the financial year 2022-23. This amount is nearly three times higher than the previous year's transfer of Rs 30,307 crore. The surge in surplus is attributed to increased income from the sale of foreign exchange reserves. Despite facing challenges such as rising yields on US treasuries, the RBI's surplus transfer is expected to provide a significant boost to the government's revenue.
Higher Surplus Transfer Driven by Foreign Exchange Sales: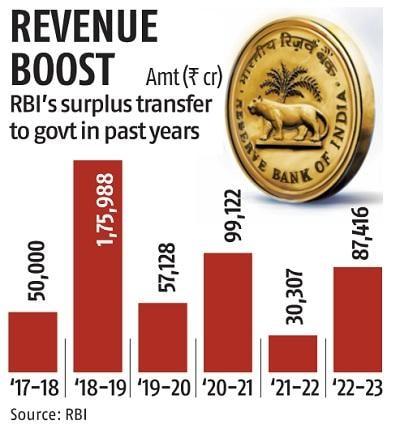 Buy Prime Test Series for all Banking, SSC, Insurance & other exams
Economists have pointed out that the major driver behind the bumper surplus transfer is the gains from record gross foreign exchange sales in the fiscal year 2022-23. The RBI's sales of foreign exchange reserves, estimated to be around $206 million until February 2023, significantly contributed to the increased surplus. However, the profits were partially offset by higher provisioning on mark-to-market losses on foreign securities. Additionally, the higher contingency buffer of 6 percent, compared to 5.5 percent in the past, also impacted the profit margin.
Offsetting Revenue Losses and Budget Expectations:
The surplus transfer of Rs 87,416 crore from the RBI to the central government is expected to bring in additional revenue of around 0.2 percent of GDP. This infusion of funds could help partially offset possible revenue losses due to lower tax revenues and divestment. The surplus amount aligns with the expectations set by the Union Budget, which estimated a surplus of Rs 48,000 crore from the central bank, public sector banks, and financial institutions for the current year.
Impact of Global and Domestic Economic Situation:
During its meeting, the RBI's board reviewed the global and domestic economic situation, including the influence of current geopolitical developments. The central bank acknowledged the associated challenges and deliberated on its performance during the accounting year 2022-23. The approval of the Annual Report and accounts of the RBI for this period reflects the board's confidence in the bank's operations. Furthermore, the decision to maintain the contingency risk buffer at 6 percent demonstrates the RBI's commitment to prudential financial management.
Also Read: RBI expects banks to completely stop using LIBOR by July
RBI Announces Withdrawal of ₹2000 Banknotes from Circulation
Find More News Related to Banking