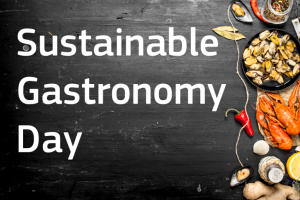 Sustainable Gastronomy Day is observed globally on 18th June every year. This day is observed to acknowledge gastronomy as a cultural expression related to nature as well as the cultural diversity of the world. It also reaffirms that each one culture and civilizations are contributors and crucial enablers of sustainable development throughout the planet.
Click Here To Get Test Series For SBI PO 2020
Sustainable Gastronomy Day: History
The UN General Assembly adopted on 21 December 2016 its resolution A/RES/71/246 and designated 18 June as an international observance, Sustainable Gastronomy Day.
What is Sustainable Gastronomy?
Gastronomy is sometimes called the art of food. It also can ask a method of cooking from a specific region. In other words, gastronomy often refers to local food and cuisine. Sustainability is the idea that something (e.g. agriculture, fishing or maybe preparation of food) is completed during a way that's not wasteful of our natural resources and maybe continued into the longer term without being detrimental to our environment or health.