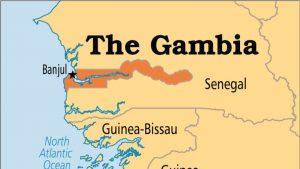 Telecommunications Consultants India Ltd (TCIL) signed a Memorandum of Understanding (MoU) with The Gambia. This MoU is signed for the participation in MEA's (eVBAB) e-VidyaBharati and e-ArogyaBharati Network Project for telemedicine and tele-education in Africa. The Gambia is the 16th country to participate in the e-Network Project. It is signed by the High commissioner of Gambia, Jainaba Jagne to the Director-Technical at the TCIL, Kamendra Kumar India at New Delhi.
Important takeaways for all competitive exams:
Capital of The Gambia: Banjul.
Currency of The Gambia: Gambian dalasi.
President of The Gambia: Adama Barrow.
Find More News Related to Agreements