India and the UAE are celebrating the first anniversary of their Comprehensive Economic Partnership Agreement, signed on February 18, 2022. As part of continued efforts to boost bilateral trade, the UAE India Business Council – UAE Chapter (UIBC-UC) was launched on February 18, 2023 by the UAE's minister of state for foreign trade Thani bin Ahmed Al Zeyoudi. Others present at the signing of the agreement included India's ambassador to the UAE Sunjay Sudhir, general counsel of India in Dubai Aman Puri, and founding members of the UIBC- UC.
Bank Maha Pack includes Live Batches, Test Series, Video Lectures & eBooks
India-UAE: Increasing Economic Cooperation: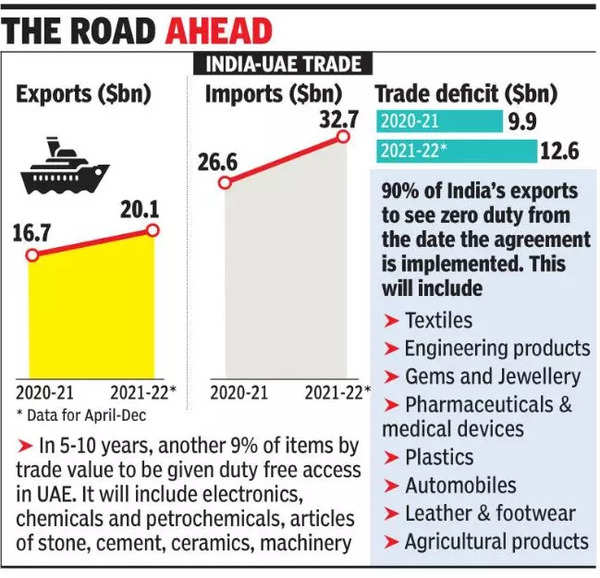 India and the UAE are targeting increasing bilateral trade to total $100 billion. The counsel is also keen to attract $75 billion in investments from the UAE to India.
"This includes investments in large infrastructure projects in India, advancements in manufacturing and technology, and providing Indian manufacturers with the ability to use the UAE as a base for their global expansion," said KEF Holdings' chairman Faizal Kottikollon, who has been appointed as the chairman of the UAE India Business Council – UAE Chapter (UIBC-UC).
Significance of The UAE India Business Council:
The UIBC-UC is poised to play a crucial role in supporting both governments in achieving these objectives and maximising the potential of the UAE-India relationship.
By leveraging the strong bond between the two nations, the council brings together key partners and stakeholders from both nations and will serve as a valuable source of policy guidance, fostering innovative collaboration between Emirati and Indian businesses.
India-UAE: A New Dawn of Cooperation:
                                                                           (image credit: respective producers)
You may also Read: First-Ever Woman Astronaut from Saudi Arabia to go on Space Mission in 2023