A recent United Nations report titled "A World of Debt" highlights the severity of the global debt crisis, urging immediate action to address the issue. The report reveals that global public debt reached an all-time high of $92 trillion in 2022, with 30% of that burden falling on developing nations. Secretary-General Antonio Guterres warns that 52 countries, nearly 40% of the developing world, are in serious debt trouble, adversely affecting their ability to invest in crucial sectors like education and healthcare. The UN emphasizes the need for multilateral efforts to combat the crisis.
Record-Breaking Global Debt: The UN report reveals that global public debt soared to a staggering $92 trillion in 2022, with developing nations accounting for 30% of this total.
Distressed Countries: Secretary-General Guterres highlights that 52 countries, representing around 40% of developing economies, are currently facing severe debt challenges. These nations struggle to allocate funds for essential services due to prioritizing debt interest payments.
Failure of the Global Financial System: Guterres asserts that the global financial system has failed to fulfill its role in providing a safety net to support countries during unexpected shocks such as the COVID-19 pandemic, climate change impacts, and conflicts like the Ukraine war.
Multilateral Action Required: The UN report emphasizes the necessity of multilateral action to tackle the debt crisis effectively. It proposes several measures, including addressing the high cost of debt and the escalating risk of debt distress. The report also calls for a substantial increase in affordable long-term financing for development and the expansion of contingency financing for countries in need.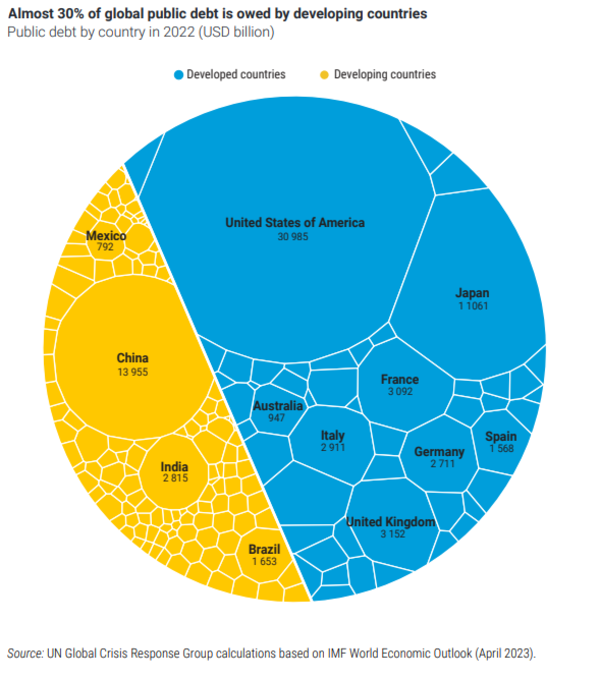 Developing Nations and Debt Burden: Developing countries are burdened with approximately 30% of the global public debt. China, India, and Brazil represent 70% of this debt. Additionally, 59 developing countries face a debt-to-GDP ratio exceeding 60%, indicating alarmingly high debt levels.
Private Creditors' Influence: Private creditors, such as bondholders and banks, hold 62% of developing countries' total external public debt. In Africa, private creditor participation has increased from 30% in 2010 to 44% in 2021. Latin America faces the highest ratio of private creditors, accounting for 74% of external government debt in the region.
Calls for Expanded Financing: The UN urges multilateral lenders to expand their financing efforts. Specific measures proposed include temporarily suspending International Monetary Fund (IMF) surcharges and increasing access to financing for countries experiencing debt distress.
Enhancing Debt Treatment Framework: The report highlights the need for an improved debt workout mechanism to address the slow progress of the G20 Common Framework. This framework, established in October 2020, aims to involve non-Paris club members like China in debt relief efforts. Further details regarding the proposed debt treatment mechanism are yet to be provided.
Inadequate and Expensive Financing: The UN points out that the international financial architecture fails to provide adequate and affordable financing options for developing countries. Net interest debt payments exceed 10% of revenues for 50 emerging economies worldwide, exacerbating their debt burden.