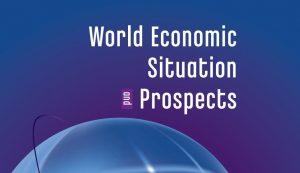 The United Nations has released its annual flagship report "World Economic Situation and Prospects Report 2020″. The report depicts the state of the world economy through the lens of the 2030 Agenda for Sustainable Development. The report is a result of the joint efforts of the United Nations Department of Economic and Social Affairs (UN DESA), the United Nations Conference on Trade and Development (UNCTAD) and the five United Nations regional commissions: Economic Commission for Africa (UNECA), Economic Commission for Europe (UNECE), Economic Commission for Latin America and the Caribbean (UNECLAC), Economic and Social Commission for Asia and the Pacific (UNESCAP) and Economic and Social Commission for Western Asia (UNESCWA). The United Nations World Tourism Organization (UNWTO), UN Office of the High Representative for the Least Developed Countries, Landlocked Developing Countries and Small Island Developing States (UN–OHRLLS), and the International Labour Organization (ILO) also gave their contribution to the report.
Key findings of the WESP Report 2020:
Report states that the global growth dipped to a 10‐year low of 2.3% in 2019 while it also projected the global growth rate at 2.5% in 2020 and 2.7% in 2021.
Globally, the issue of per capita income stagnation or decline will be faced by 1 in every 5 countries in year 2020.
For commodity‐dependent developing countries, the average growth of GDP per capita has fallen from 2.9% per annum in the period 2010‐2014 to only 0.5% in 2015–2019.
The report has forecasted the expansion of aggregate GDP in least developed countries to 5.1% in 2020 and 5.4% in 2021.
85% of all monetary policy changes in 2019 headed towards easing rather than tightening and hence marked the broadest shift in global monetary policy since the global financial crisis.
Between the period of 2010 and 2019, the part of government revenue spent on interest payments has increased in over 70% of the developing countries.
Also, according to the WESP Report 2020, East Asia remains the world fastest growing region.
Important takeaways for all competitive exams:
United Nations Headquarters: New York, USA; Founded: 24 October 1945.
Secretary-General of the United Nations: Antonio Guterres.
Find More Ranks and Reports Here