According to provisional data from the commerce ministry, the bilateral trade between India and the United States has risen by 7.65% to reach $128.55 billion in the fiscal year 2022-23, making the United States India's largest trading partner. This represents an increase from $119.5 billion in the previous year and $80.51 billion in 2020-21, indicating a growing economic relationship between the two countries.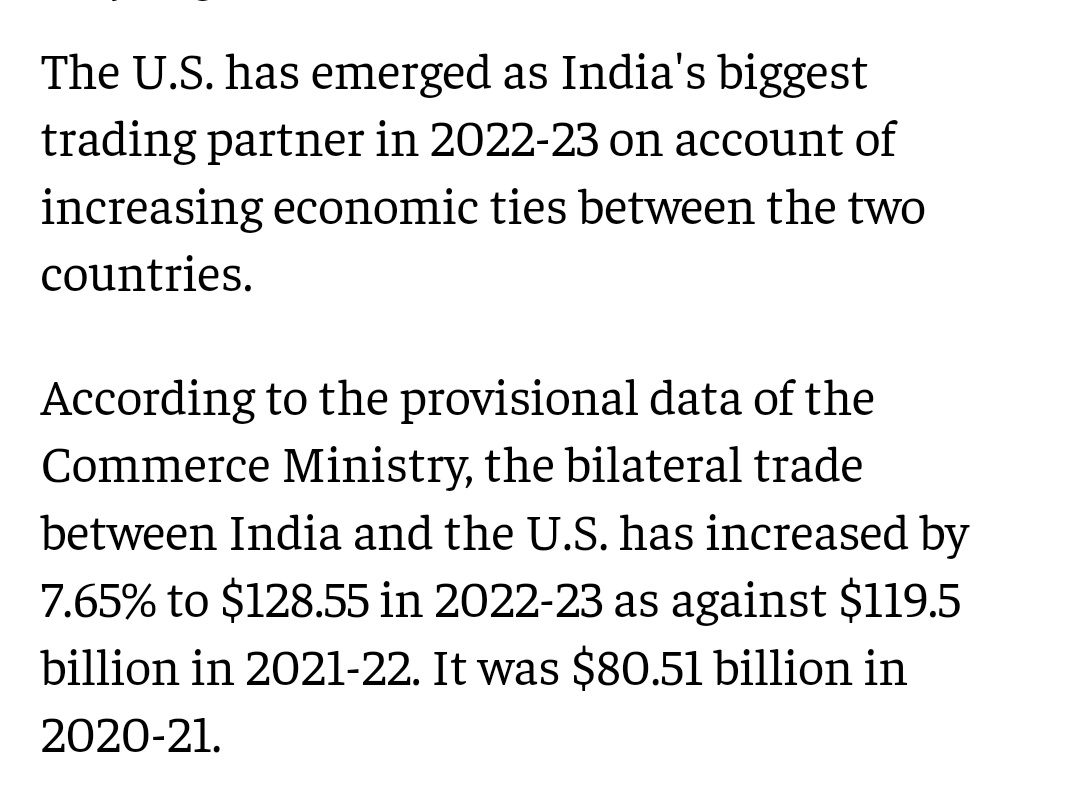 Increase in import is more than that of exports:
As per the data, exports from India to the United States increased by 2.81% to $78.31 billion in the fiscal year 2022-23, compared to $76.18 billion in 2021-22, while imports from the US surged by around 16% to $50.24 billion.
India-China Trade:
Meanwhile, India's bilateral trade with China decreased by approximately 1.5%, reaching $113.83 billion in 2022-23, down from $115.42 billion in the previous year.
In the fiscal year 2022-23, India's exports to China decreased by roughly 28% to $15.32 billion, while imports from China rose by 4.16% to $98.51 billion, leading to a wider trade gap of $83.2 billion compared to $72.91 billion in 2021-22.
India-US: Increasing Economic Ties:
However, experts believe that the trend of increasing bilateral trade with the US will continue as both countries are focused on strengthening their economic ties. The export of goods like pharmaceuticals, engineering, and gems and jewellery is reportedly driving India's shipments to the US.
In 2022-23, India had a trade surplus of $28 billion with the US, which is one of the few countries where India has a trade surplus.
Top Trading Partners of India:
According to the data, China was India's top trading partner from 2013-14 to 2017-18 and again in 2020-21. Prior to China, the UAE was India's largest trading partner. As of 2022-23, the UAE, with $76.16 billion, was India's third-largest trading partner, followed by Saudi Arabia ($52.72 billion) and Singapore ($35.55 billion).
You may also read this:
Asian Development Bank Commits Rs 150 Crore To Tata Power Delhi Distribution