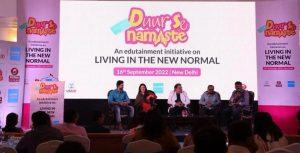 The US Agency for International Development and UNICEF launched the Doordarshan and YouTube series titled "Door Se Namaste" at a function held in New Delhi. A theatrical film on Duur Se Namaste was screened at the event, taking the audience through the main story, and showing how the messages of vaccine promotion and COVID-19 Appropriate Behaviour (CAB) have been interwoven in the entertainment education series.
Bank Maha Pack includes Live Batches, Test Series, Video Lectures & eBooks
About the Door Se Namaste series:
Door Se Namaste is a new television series which promotes healthy behaviours in a post-pandemic world. It is a fictional Hindi series developed in an entertainment education format highlighting the challenges of a post-pandemic world and promoting the adoption of healthy behaviour and practices.
The programme will be telecast on every Sunday from 11 AM to 12 noon.
The series is produced by National Film Award winner and Padmashee, Nil Madhav Panda's production house, Elleeanora Images Pvt. Ltd.
About the cast:
Ankit Raizada: Ankit is the main lead of Duur Se Namaste. A popular television actor, who has worked on shows like Jodha Akbar and Yeh Rishta Kya Kehlata Hai. Ankitt plays Vishu, a COVID hero in the series, who helps his neighbours with their challenges and problems and works as a volunteer for the elderly and infected during the peak of the pandemic.
Dolly Chawla: Dolly plays Geet on the show Duur Se Namaste, a fun and career-oriented girl, who models women chasing their dreams. Dolly played lead roles in Sasural Simar Ka, Zindagi Mere Ghar Aana, Thapki Pyar ki among other shows.
Atul Parchure: Atul Parchure is a well-known Indian movie, television and theater actor. He is mainly known for his comedy roles in Marathi and Bollywood film industry. His career spanning over two decades includes roles in the popular Kapil Sharma Show, Jago Mohan Jago, R K Laxman ki Duniya among others.
Find More Miscellaneous News Here