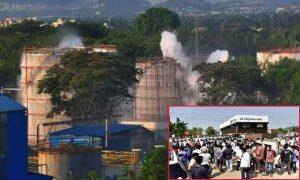 Styrene gas leaked from LG Polymers Plant in Vishakhapatnam, Andhra Pradesh. The plant was located about 15 km from the coastal city of Vizag. The changes in temperature inside a storage tank resulted in a leak.
Around 5 villages were affected due to the leak. The gas has spread across a radius of 3 km affecting at least 5 villages and over 3000 people. According to the sources, a gas leak occurred on 7th May – Thursday at 2 AM on in the morning and quickly spread to around 5 villages in the vicinity of RR Venkatapuram where the plant is located.
Click Here To Get Test Series For SBI PO 2020
About Styrene Gas:
Styrene is a chemical compound that has been identified as neuro-toxins.
It is also known as ethenylbenzene, vinylbenzene, and phenylephrine.
The chemical formula of Styrene Gas is C6H5CH=CH2.
Styrene gas is a by-product of highly flammable raw material Styrene.
The gas produced by burning styrene is poisonous in nature. Coming to chemical properties, Styrene Gas is a colour-less and odour-less compound.
Health Impacts of Styrene Gas:
Styrene gas affects the respiratory system.
It causes chest congestion, gasping, air hunger and wheezing.
It slowly paralyses the lung muscles causing complete respiratory paralysis. This leads to death due to oxygen deprivation.
Death occurs within 10 minutes of continuous exposure to concentrate Styrene gas.
Important takeaways for all competitive exams:
Andhra Pradesh Chief Minister: Y. S.Jaganmohan Reddy.
Governor of Andhra Pradesh: Biswa Bhusan Harichandan.