The recent collapse of Silicon Valley Bank (SVB) has led to uncertainty in the talent market for Indian startups, which had around $1 billion in deposits with the lender. SVB was shut down by regulators on March 10 due to a run on the bank, despite having $209 billion in assets at the end of 2022.
Buy Prime Test Series for all Banking, SSC, Insurance & other exams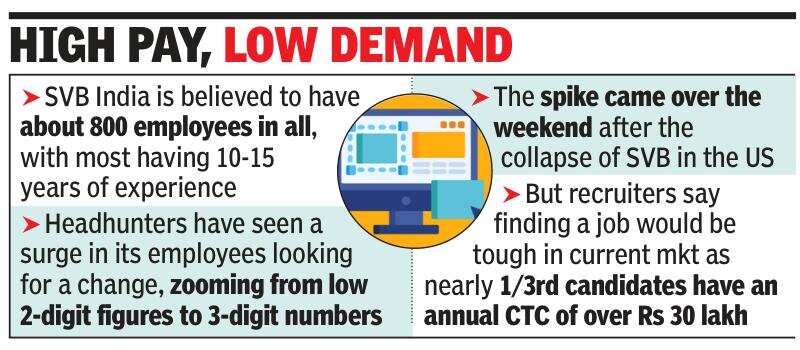 SVB collapse and Indian talent market:
However, HR and staffing firms are optimistic about the Indian economy and believe that the SVB crisis will not have a significant impact on the talent market.
While there may be some imbalance due to factors such as a slowdown, experts believe that the SVB collapse alone will not affect the talent market. Data from staffing company Xpheno shows that tech startup demand for talent dropped to one-third of its usual volume during the second half of 2022 and has remained below 20,000, leading to a slower pace of hiring.
Reduction in liquidity for Startups:
Startups that had built their reserves and deposits at SVB are likely to be affected by the bank's collapse, and efforts are underway to secure and recover their reserves. For these startups, the main inconvenience will be a reduction in liquidity and delays in accessing funds.
However, they have a means of resolving the situation and are unlikely to resort to layoffs. They may need to exercise short-term austerity measures to navigate through this period.
A short-term disruption:
AR Ramesh, the director of managed services and professional staffing at Adecco India, stated that while the performance of specific banks and financial institutions may have some impact on the technology and startup sectors, it is unlikely to be the primary factor influencing the demand for talent.
According to him, this will be a temporary issue because Indian businesses, particularly startups, play a significant role in the global technology industry, and there is still a high demand for talent in these fields.
You may also read this: