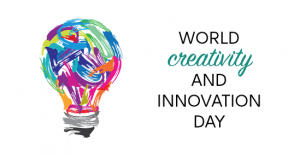 World Creativity and Innovation Day is observed globally on 21 April every year. This day is celebrated to raise awareness around the importance of creativity and innovation in problem-solving with respect to advancing the United Nations sustainable development goals, also known as the "global goals". The main objective of the day is to encourage people to use new ideas, make new decisions, and do creative thinking. Creativity is what makes the world go 'round.
Click Here To Get Test Series For SBI PO 2020
History of World Creativity and Innovation Day:
World Creativity and Innovation Day (WCID) was founded on 25 May 2001 in Toronto, Canada. The founder of the day was the Canadian Marci Segal. Segal was studying creativity in 1977 at the International Center for Studies in Creativity.
The United Nations on 27 April 2017 resolved to include World Creativity and Innovation Day on 21 April as a Day of observance to raise importance among people about the use of their creativity in problem-solving for all issues that may be related to achieving the 2015 Sustainable Development Goals.
Important takeaways for all competitive exams:
Secretary-General of the United Nations: Antonio Guterres.
The United Nations (UN) is an organization between countries established on 24 October 1945 to promote international cooperation.