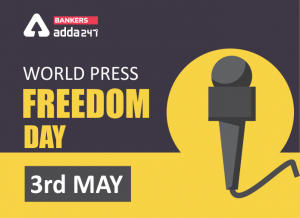 World Press Freedom Day is observed globally on 3 May every year. It is also known as World Press Day. The day also pays tribute to journalists who have lost their lives. They risk their lives at times or may even have to face tough situations in order to bring the news from different corners of the world in front of the public.
Click Here To Get Test Series For SBI PO 2020
The theme of World Press Freedom Day 2020 is "Journalism without Fear or Favour".
The sub-themes for this year are:
Safety of Women and Men Journalists and Media Workers.
Independent and Professional Journalism free from Political and Commercial Influence.
Gender Equality in All Aspect of the Media.
History of World Freedom Day
The General Assembly in the United Nations established World Freedom Day in 1993 to promote the independence of the Africa Press. This was followed by the Windhoek Declaration that was established to maintain free press. As the declaration was made on the 3rd of May, hence the special day is observed each year on 3rd May.
Important takeaways for all competitive exams:
Secretary-General of the United Nations: Antonio Guterres.
The United Nations (UN) is an organization between countries established on 24 October 1945 to promote international cooperation.