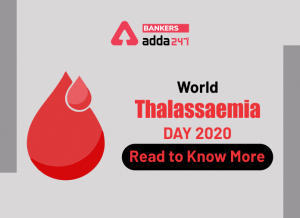 World Thalassaemia Day is observed globally on 8 May every year. This day is observed to raise awareness about thalassaemia disease, its preventive measures and to avoid transmission and the importance of vaccination for children's health, society and among the people throughout the world. Due to the COVID-19 pandemic, World Thalassaemia Day 2020 will be celebrated through different online activities.
Click Here To Get Test Series For SBI PO 2020
The World Thalassaemia Day 2020 theme:
The World Thalassaemia Day 2020 theme: "The dawning of a new era for thalassaemia: Time for a global effort to make novel therapies accessible and affordable to patients".
History of World Thalassaemia Day:
World Thalassaemia Day has been observed since 1994. Also, the Thalassaemia International Federation (TIF) organizes many diverse activities for the International Thalassaemia Day. The objective to draw the attention of the general public, patient associations, public authorities, healthcare professionals, and industry representatives, to fuel discussions and promote actions on a particular theme related to the prevention, management, or treatment of the disease in a patient-centred manner.