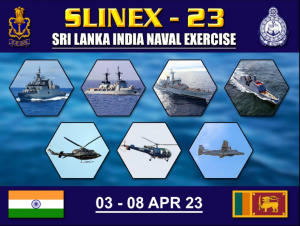 Maritime exercise SLINEX-2023
The 10th annual SLINEX-2023 bilateral maritime exercise between India and Sri Lanka has commenced in Colombo, Sri Lanka. The exercise is divided into two phases, the Harbour Phase and the Sea Phase, each lasting three days. The Indian Navy is represented by INS Kiltan and INS Savitri, while the Sri Lanka Navy is represented by SLNS Vijayabahu and SLNS Samudura. In addition, the exercise also includes participation from the Indian Navy's Chetak helicopter and Dornier Maritime Patrol Aircraft, as well as Sri Lanka Air Force's Dornier and BEL 412 helicopters. The exercise will also feature the Special Forces of both navies working together.
Buy Prime Test Series for all Banking, SSC, Insurance & other exams
The primary objective of SLINEX-2023 is to improve the inter-operability and mutual understanding between the Indian and Sri Lankan navies, as well as exchange best practices and procedures for multi-faceted maritime operations. The Harbour Phase of the exercise will involve various activities such as sports, yoga, and cultural events to facilitate mutual learning, reinforce shared values, and foster friendship and camaraderie between personnel from both navies. The annual maritime exercise is a testament to the strong engagement between India and Sri Lanka, which has resulted in increased cooperation in the maritime domain. The navies of both countries have been interacting more frequently in recent years in line with India's 'Neighbourhood First' policy and the Prime Minister's vision of 'Security and Growth for All in the Region' (SAGAR).
During the Harbour Phase of SLINEX-2023, both INS Kiltan and INS Savitri will be open for visitors, including schoolchildren. Additionally, a joint band performance by the Indian Navy and Sri Lanka Navy in collaboration with the Swami Vivekananda Cultural Centre is also planned. The Sea Phase of the exercise will involve various exercises in multiple dimensions such as surface and anti-air firing exercises, seamanship evaluations, helicopter and maritime patrol aircraft operations, advanced tactical manoeuvres, search and rescue, and Special Forces operations at sea.
History of SLINEX-2023
The Indian-Sri Lanka Bilateral Maritime Exercise, also known as SLINEX, is an annual naval exercise conducted by the Indian Navy and the Sri Lanka Navy since 2005. The aim of the exercise is to enhance inter-operability, improve mutual understanding, and exchange best practices and procedures in multi-faceted maritime operations between both navies.
You may also read
Defence Ministry inks deal worth over Rs 1,700 crore to boost critical weapon system production